Click here for part 1 of the Polish Project.
Let's get right into it!
6. OPI Suzi Skis in the Pyranees
7. NYC 105A Starry Silver Glitter
Space nails! I saw a tutorial on this ages ago (this one is great but not the one I watched), and have done this a few times since. Mostly, it's fun to do and my husband was sort of impressed when he saw them and since he is not that invested in how my nails look, this was a success. I'm reviewing the base color and the sparkly topcoat since the other colors are just lightly sponged on and it isn't a real test.
#6
Thoughts: Sort of thin in application, this color does turn out like a dark dark gray, I can't explain it. I would probably only use this as a base for something else.
Verdict: Totally keeping this one.
#7
Thoughts: This is one of the first sparkly topcoats I bought. It has pink and blue glittery bits and the glitter spreads really well.
Verdict: Keep.
8. OPI Bogota Blackberry (It's only $1.99 at the link on Amazon!)
OPI Bogota Blackberry is more like my kind of red, since it's darker, and slightly shimmery.
Thoughts: Mom would love this, but I like it too much and it was easy to apply. Probably didn't need the sticker.
Verdict: Totally stashing this one.
I'm pretty sure I have had this polish for ages but had never worn it. What a mistake.
Thoughts: OMG I LOVE THIS. The color is so different than the bottle looked, application was awesome and did I mention the color is gorgeous? Obsessed.
Verdict: Obviously I am keeping the hell out of this.
10. Sally Girl Unknown Shiny Teal-like Color (maybe the one in the link, I can't tell and the name isn't on the bottle)
I picked up 2 mini bottles of Sally Girl polish while buying polish wheels at Sally Beauty Supply. I realize now that I cannot go back there until after the Polish Project is done because I will definitely buy more nail polish. I won't be able to resist.
Thoughts: Meh. Application was fine, but it just felt like the cheap polish it was. Might work well for something like space nails though.
Verdict: I'll keep it for now.
This is the second post in this series, and I already have to admit that I caved and bought this after the freeze. I saw this in someone else's review of the Spiderman collection and I could not resist. My polish job here is not so hot, but I am glad I bought this one when I saw it.
Thoughts: Good application, shiny and fun. I need to remember that cuticle cleanup should be prioritized.
Verdict: Stash it!
12. Sephora by OPI Sparkling Personality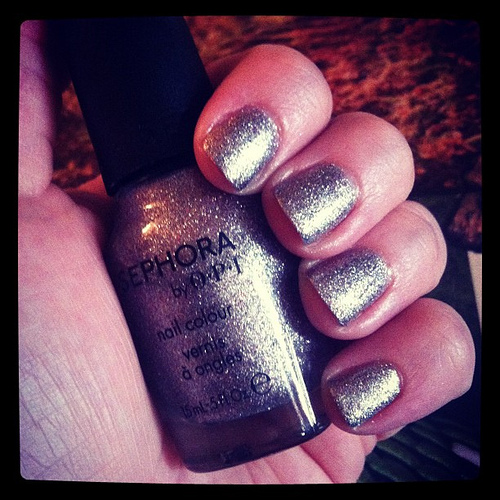 Not sure if it was my base coat acting up, but this came off in a complete piece on 2 nails the day after I used it. This polish was from the Betsey Johnson collection, and was $9.50, so I expected it to be at least a bit decent. Plus, my other Sephora by OPI polish is a winner, but I'll get to that in a later post.
Thoughts: Good application for a glitter because the pieces are little. Silvery with bits of blue and pink. Pretty, but when it started to go downhill, the polish chipped off in big pieces, like glitter polishes do.
Verdict: I think this might be a share. I'm not obsessed with it, and I don't think I can do much with it in terms of using in other scenarios. Who wants to trade?
13. Sally Hansen Gray by Gray (Only $2.38 from someone on Amazon I assume is called "Fat Pugsley")
Horrible name alert. This is not grey. This polish is blue. This especially bothers me because of an incident in the end of 2009 where I bought what I thought was grey paint for the bedroom and spent 2 days painting before my husband was like "uh, this is blue." I then used orange paint to paint expletives on the wall before becoming fast friends with Benjamin Moore. Good times.
Thoughts: Despite the color issues, HOLY CRAP this polish is no joke. It is an endurance champion and I only put on one coat. Granted, I ignored the "complete salon manicure" thing and used base and top coats, but still, it was incredible how it held up for a good 5 days with typing and all of my other foolishness. Formula is a complete win. It was also super easy to apply. The brush looks like it will suck but again, I was happily surprised.
Verdict: Not even kidding, totally keeping this. If I wasn't in a polish freeze I would be buying more colors of this right now.
14. Essie Mesmerising
14.5 Looks Wet Top Coat (no links to crap!)
Not sure what is up with the name here, my bottle definitely says Mesmerising, all British and Canadian in the spelling. It's Mesmerize on Amazon, so I don't know what is up there. However, this whole situation was messy.
Thoughts: I had trouble with the polish application and didn't think to add thinner until later, so I'm going to need a take 2. The color is really fun so I will give it another chance. However, and apologies if you can't see it, the topcoat is bubbled up like crazy. It was terrible to apply, took forever to dry, and bubbled up. Manicures like this only stay on for a day and then I change it up because I can't stand them.
Verdict: Trying again later with the Essie polish with some thinner added. The top coat just needs to be tossed out, but my husband is checking to see if nail polish is a hazardous material.
OK I'm all caught up. Some good ones in this bunch, I think the next batch might be all glitters.
Anyone want to trade something for Sparkling Personality?
{ Comments on this entry are closed }