Click here for all Formula One-related posts on JamieSanford.com.
Check out the Formula One wiki for more information.
This race was super important to see how things would go with the driver's championship. Nico Rosberg was 22 points ahead of Lewis Hamilton, and if Rosberg managed another win, Lewis would only have more work to do as the season wraps up.
Lewis wants to win though, and he managed pole position by an INSANE 3 thousands of a second. I had a good feeling about it for the race. I was also looking forward to seeing Fernando Alonso do his thing since he has a proven record of doing well in Singapore. Neither of them disappointed.
I know it's bad to enjoy someone's misfortune, but it did seem that Nico Rosberg was owed a DNF result as he has only had one this season, compared with 3 for his teammate. I had a feeling he was doomed when the cars pulled off of the grid for the formation lap and his car didn't move, and ended up starting in the pit lane. He ran for 13 laps with a seriously wonky electrical system before retiring.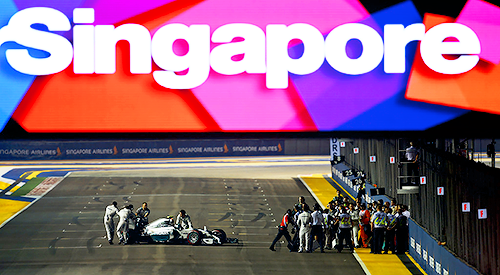 Meanwhile, Lewis Hamilton was on a lovely Sunday drive at the front of the pack, clearly just ready to win the race. He didn't have work incredibly hard until after the last pit stop, when he had a few places to make up to win the race.
Classy. Nico knows that a lot of people still think he is a cheater.
Lewis wins! The 2 Red Bulls are behind him, and Daniel Ricciardo outperforms Sebastian Vettel, again.
I could not be happier for Lewis except for if he was Fernando Alonso. I think he will be amazing for the rest of the season and will take the championship.
{ Comments on this entry are closed }