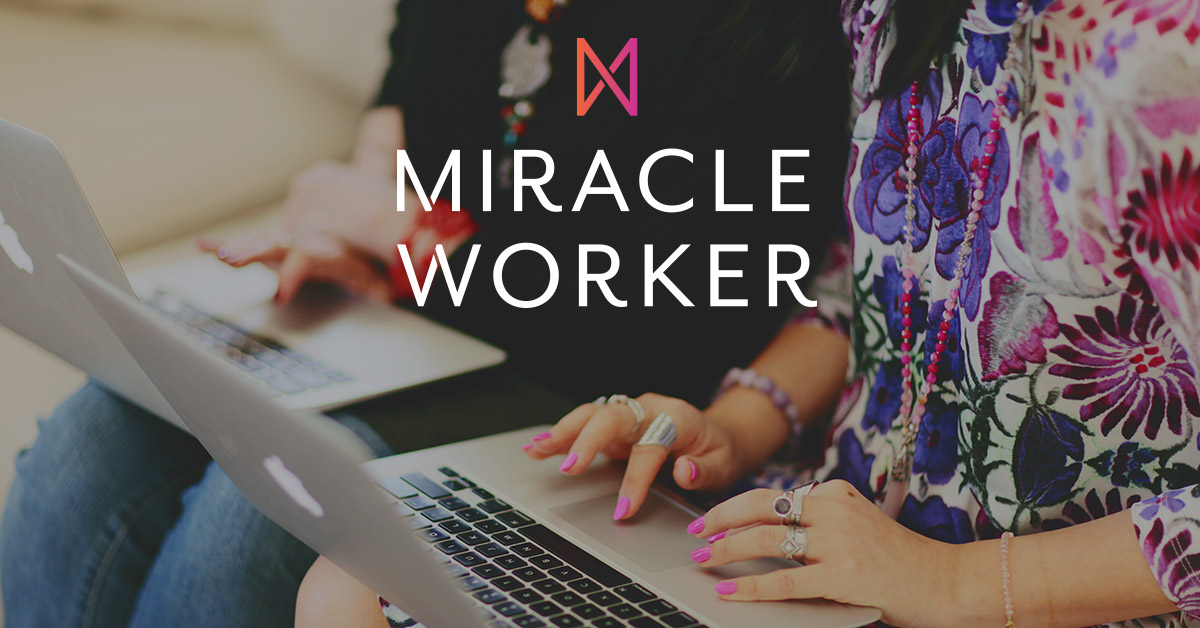 As much as I'm pretty sure I know what I would like my career to be, how I would like it to proceed, I still have many moments of being unsure that I'm going about things the right way, and am concerned that my end goal is fuzzier than it should be.
I recently took a course called Miracle Worker which has cleared up much of that fuzziness. Here's the overview of this course:
Miracle Worker

is an 8 week e-class created by two career experts, Ellen Fondiler and Gala Darling — on how to create a meaningful, magical career — working for a company you love, running your own business, or a combination of both!

The twist? You won't just be "visualizing" or "dreaming" or "journaling" about your ideal career — you will be taking concrete steps, every single week, to change your mindset, get clear, get motivated, revamp your résumé or website, reach out to your network, line up interviews and conversations, and march forward!

Our goal is to shift your attitude from one of scarcity and self doubt ("I've got nothing to offer," "It's too hard," "The economy is terrible!") to one of empowerment and focus ("I can be in the top 10% of my industry," "I've got this," "It's handled.")

Miracles unfold when you commit to your dreams one hundred percent.

We can't wait to guide you, inspire you, share our secrets, let you peek inside the minds of some of the world's top business owners, recruiters, and hiring managers… and most of all: motivate you to keep going!
I have been reading Gala's site for years, and once I started reading Ellen's site, it became obvious that these two would bring a really interesting set of perspectives to the goal of finding the root of work you enjoy. I decided to jump in and join the class, and immediately received my start-up packet and joined the Facebook group with the other students.
For the most part, I've been lucky so far that I've been able to work on projects that interest me and with people I have enjoyed. However, I have always seemed to be managing much more than should be done by one person, and that leads to issues with focus and doing your job well. I have never been able to focus on a single project for that long, because when you wear 18 hats, it is inevitable that you are changing them multiple times a day. I am always amazed at how much more fulfilling my days are when I can focus on just one or two projects and do those projects justice.
What I love about e-courses like this is that you are the boss, you decide what to complete and concentrate on. I didn't necessarily feel that all of the class assignments were something I needed to do, and the freedom is there for you to decide what to do or not. I can tell you that the first week was insanely helpful right from the jump. To force yourself to sit down and very specifically examine what has been enjoyable and fulfilling in your working life so far, and in personal projects as well, seems like an obvious thing, but being led through it makes it so much less daunting. There's also a great project during week one where you email people in your life to ask about your best qualities. I was stunned and thrilled by the responses I received.
Every week there is an initial workbook, action steps, and a relevant interview with someone succeeding on their own terms. There is a good balance between catering to anyone who wants to stay in a "job" working for someone else and those interested in starting their own businesses.
One of my favorite experiences of the course was meeting up in NYC with Gala and Ellen, along with some of my classmates!
While I have not made any major changes as of yet, the change I have made is that I discovered that I was on the right track about what I am passionate about and what work I actually enjoy doing. This blog has been incredibly active because I'm so invigorated, and that's a big step towards my next step.
The next Miracle Worker class starts on September 7th. Check it out here.
[youtube t_xDnZ66QBg]
Disclosure: The links in this post are affiliate links for the Miracle Worker course. I will receive a referral fee for anyone who joins the course through my link.
{ Comments on this entry are closed }