93. Blood Into Wine (available to stream on via Netflix)
Here is the trailer for Blood Into Wine.
[youtube R5drOkkCNT8]
Blood Into Wine is a documentary about growing wine in a seemingly unlikely place—Arizona. The focus is not just on that oddness, but that the owner of one of the vineyards is Maynard James Keenan of the bands Tool, A Perfect Circle and Puscifer. A seemingly unlikely grape farmer, we find out that Maynard is the real deal when it comes to being passionate about wine. He also very directly addresses the issues that people have with rock stars being known for songs full of pain eventually coming out the other side, being happy. (I have found that fans of Trent Reznor/Nine Inch Nails are the same way – unhappy that he is happy because it somehow changes their vision of him. I, on the other hand, am happy that he has grown up, as I have, and we are all married and in a good place now.)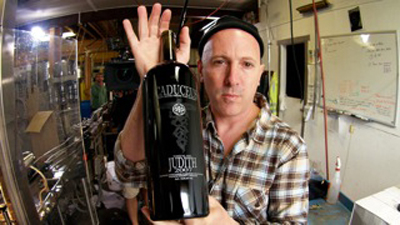 This movie is not a wine education, if you are looking for one. There is a lot of touchy-feely commentary about the earth and how wine is an expression of the terroir and whatnot, and you see a bit about harvesting and pressing, but the movie is largely about developing a wine country in Arizona and fighting the attitudes of "wine people" who think that nothing good can come from places they don't expect. With a random sprinkling of Tool fans losing their minds over getting a bottle signed by Maynard James Keenan.
Blood Into Wine is available on DVD from Amazon for $14.99. If you want a bottle of Maynard's wine, it will cost you more than that.
{ Comments on this entry are closed }