Sights and Sounds #37: Sahara Davenport Edition
Click here for all of the Sights & Sounds posts.
I love drag. For anyone new to this blog, I have been going to drag shows regularly since my first one, sometime close to turning 18. I have made many friends who are queens in the last few years while attending shows in NJ and NY, and have been a crazy superfan of RuPaul's Drag Race.
I was devastated last night to read that Sahara Davenport (Antoine Ashley as a boy) passed away earlier this week. No matter the details, the drag world has lost a gorgeous queen and wonderful performer. My heart goes out to Sahara's family, Antoine's family, and of course, Karl/Manila, who has been in a relationship with Sahara/Antoine for years. I wish these families all the best.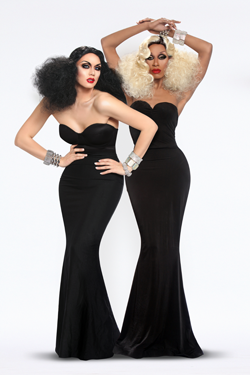 Sahara Davenport (right), with Manila Luzon.
[youtube rw89zB_wc1U]
[youtube KziZUnSYRRA]
{ Comments on this entry are closed }