Click here for all posts in the Brand Experience Project.
The next brand examination will be on MAC Cosmetics and maccosmetics.com. I'm going to combine two different experiences here. I was lucky enough to receive wishlist items from MAC for Christmas, so I got to experience the extra benefit of gift wrapping and messaging in the package I received in December. For the shopping experience portion of this post, I will focus on my recent experience buying cute stuff from the Archie's Girls collection. Please note that I am a big fan of MAC products, and would still use them even if the website totally sucked. This post has nothing to do with MAC, I am not paid to write it, etc.
Shopper Experience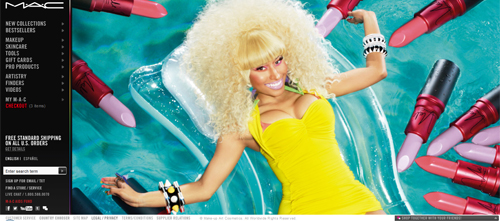 The MAC website hasn't changed for as long as I can remember. The homepage is definitely dedicated to promotional imagery for current collections and new items.

The left navigation on the website stays present on all pages. It's pretty straightforward. Picking your items at the top, customer service information, search, etc.
Choosing something on the left generates a pop-out menu of everything in that category.
Some categories drop down and then out, as seen with the makeup menu. The design here is simple and easy to navigate.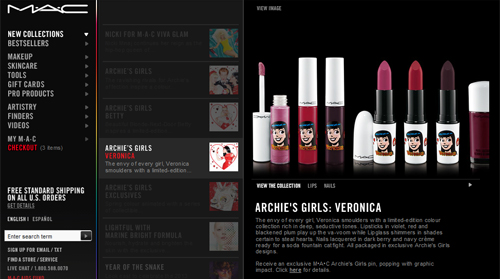 I navigated my way to the Veronica section of the new Archie's Girls collection.
Here's a closer look at the items in the Veronica collection. You can shop right from this menu by clicking a color swatch-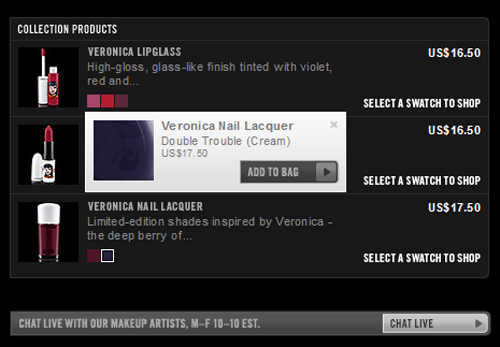 -as seen here, where I clicked the blue swatch for the nail lacquer and was then able to add it to the cart. I tried to show the item I actually bought, but it is sold out and so indicates that in this small pop-up box, without letting me add to the cart.
You can also click on each item's name and get this more detailed view of the color swatches. You can create an account and create a favorites list, or you can check out the Colour Play feature, which is very cool. It's a little side track from this process, but I cannot skip over it.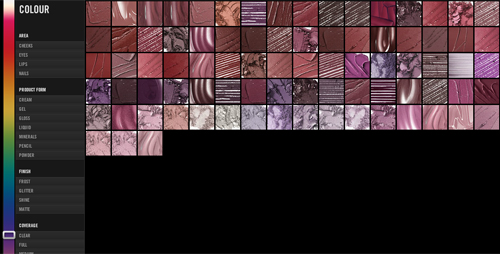 You visit the MAC rainbow and pick a color on the left bar, and it shows you swatches of all of the products in that color family. You can then break it down by product area, finish, coverage level, etc. It's really fun to click around and look at all of the red products, all of the purple products, etc. I highly recommend trying it out. I love all of my MAC makeup, I doubt you will regret anything you purchase from MAC.
Back to the purchase process.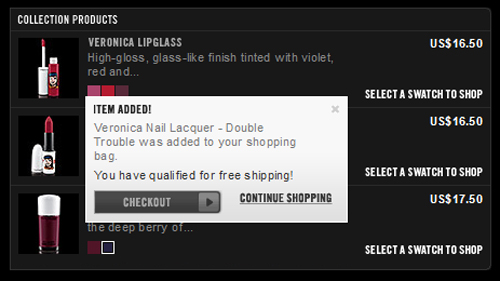 I added the Double Trouble nail lacquer to my cart, and I get this lovely confirmation that not only did I add it, I am going to get free shipping!
Checkout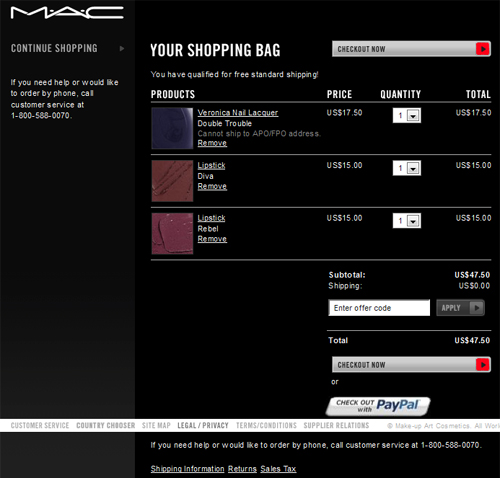 Here's my shopping cart. It is pretty straightforward. I really like the links at the bottom for shipping information, returns, and sales tax. They generate pop-up boxes that keep you at the page with your cart but lets you get information relevant to your purchase easily.
The page asking for account information is made slightly more interesting by the step numbers at the bottom. I like the idea that it is only 2 extra steps if I don't have an account yet.
Here's an example of the pop-up that comes up when I choose to click for more information. On the left under "shipping method," you get to quickly access anything you might want to know about shipping your order.
The gift wrap options are made available here as well. My issue with this is that the picture of the gift wrap isn't very big, and the "MAC box" is not what I received when I got my own gift last year. (Granted, I do not know if they show a different image at the holiday season. My wrap wasn't particularly seasonal, so this is an unknown.)
The billing information page is easy to use and understand. The biggest issue I have here is that "Learn more about gift cards" at the bottom of the page is NOT a pop-up, but opens another page on the site. It takes you AWAY from the checkout process, to another page. I would recommend that MAC turns this link into a pop-up like the others, with a link there to open a page to buy gift cards in a new tab or window.
After this, I completed my purchase with a credit card. Everything went smoothly, and I was told I would have an email confirming my order.
Here's my confirmation email. As with the Solestruck email, I like that I'm told how long it is going to take to process my order, and that they will be in touch when my order ships. I know that most people think that stuff like this is standard, but I can tell you that it is NOT.
On to the order packaging! As mentioned before, the photos are of a box I received as a holiday gift in December, not the items I ordered recently.
Packaging
Not exactly a branded box, but since everything MAC does is black, so it makes perfect sense.
In the top of the box is this plain white envelope on top of black tissue paper.
Branded card! (Side note: MAC has such a damn good logo.)
My gift message printed on the card. Not complicated, but I really like the touch of getting an actual card in the box.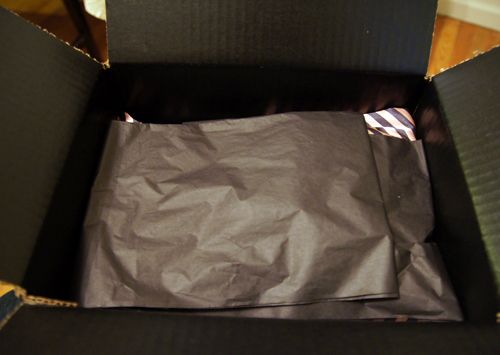 After removing the top layer of black tissue paper (used for padding the contents), the actual items are also wrapped in the same paper.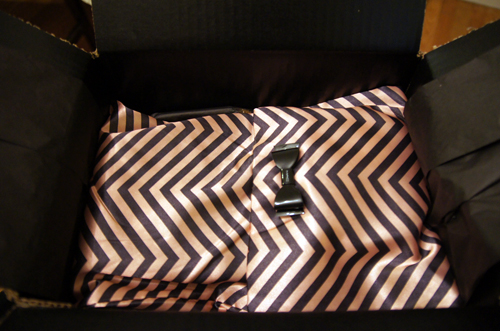 This was great! This is a simple silky bag with a velcro closure.
Here's a better view of the ribbon.
Inside the box were my 2 packaged gift sets. Both were charming and lovely, which is what I've experienced with other MAC items as well.
The second box.
In post number 2, MAC has also stood up as a brand doing a good job of selling online and then continuing that positive experience through the shipping and receiving of items. While I did not record it, I can say that my non-gift wrapped items that I ordered a few weeks ago came in a smaller black box with the same black tissue paper. The consistency is there!
So, I applaud MAC for their experience. I only found one flaw that is easily fixed, and other than wanting things to be on sale every now and then (I RARELY run into a MAC sale), I am completely satisfied with my interaction with the brand.
Please let me know what you think of this post, and recommend other websites I should try out for this project!
Save
{ Comments on this entry are closed }