Click here for all Formula One-related posts on JamieSanford.com.
Be sure to check the Formula One wiki for more complete results, or visit Planet F1.
Photos are from Planet F1 unless otherwise noted.
Fernando "Eyebrows" Alonso is in a good mood, and looking cute. It was announced this week that Kimi Raikkonen will be driving next to him in the Ferrari next year.
Singapore is the only race held entirely in the dark, and it's got lots of beautiful sights. Definitely on the list of Formula One races I want to attend.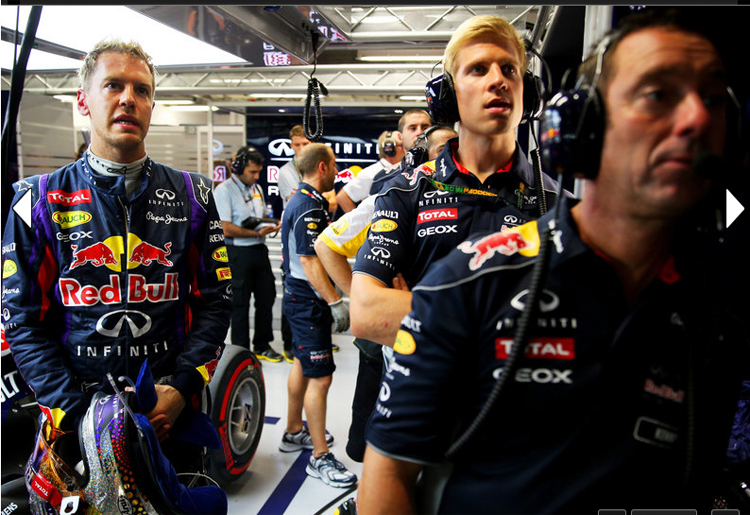 I missed qualifying due to a DVR issue, but I heard that Sebastian Vettel went out early in the final bit of qualifying and had to wait and see if anyone surpassed his time. He still ended up in pole position, but whatever. Let's talk about his sparkly helmet, which was really fabulous, no matter how much he isn't my favorite.
So yes, Vettel on pole, with Nico Rosberg following, and Romain Grosjean in P3. Romain gets extra points for being red-faced like me.
The race start was pretty exciting. Alonso jumped something like 5 spots before the first turn, and Rosberg was ahead of Vettel for about half a second before Vettel went on to lead the entire rest of the race.
Talked to my brother Pete about the race, and he didn't believe me when I told him that Vettel had already built around a 3-second lead by the end of lap 1. But he did. We barely saw Vettel because luckily, the TV people know that it is boring to watch someone just be at the front, alone.
Side note: Vettel has been getting booed at every race when he is on the podium. Apparently people do not like the domination that he has experienced in the last few years. I don't know how to feel about it. Yes, I think having someone so clearly ahead is boring. I much prefer to watch people actually racing against one another, and competing, and not just having the fastest car and being in the front. If Vettel was fighting more for his wins, I'm sure he would not get booed as much.
Poor Mark Webber, who just wants to have fun driving a Formula One car while he still has one, had the back of his car explode out with flames during the final lap. Fernando Alonso came by and picked him up during his cooldown lap, and everyone got to get a kick out of Mark Webber waving to the fans while riding on a Ferrari. It was good tv! Naturally, the stewards got pissed and gave them both a reprimand, and since it was Webber's third, he ended up with a grid penalty for the next race. Lame.
Then Alonso got to pick up his miniature trophy and watch Vettel get weirdly intimate with his. Stop kissing the trophy dude, it just results in images that look like this.
{ Comments on this entry are closed }