I am really excited about today's option.  Coat racks are a necessary evil, and while I love the one I have from Wrought Iron Haven, this one is so much cooler.  It doubles as art!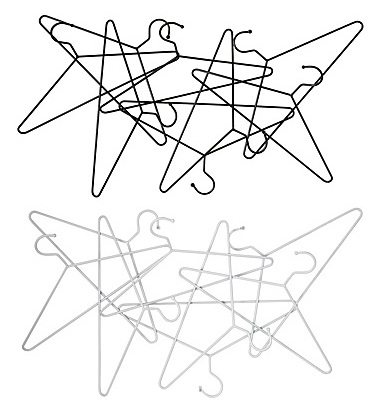 This coat rack is a mess of hangers all together. I love it.
Description:
Finding an impenetrable tangle of wire coat hangers on the closet floor can be frustrating. But a tangle of wire coat hangers up on the wall? That's functional fine art! This playful and practical, sculptural creation by designer Jade Barnes-Richardson plays with the geometric form of the coat hanger–letting you appreciate what you once struggled to undo–while offering a convenient spot to store your jackets, coats and scarves. Sure to be a hit whenever you have guests.
I love it.  Also interesting? The history of clothing hangers, which I naturally checked out on Wikipedia.
Some historians believe President Thomas Jefferson invented a forerunner of the wooden clothes hanger. However, today's most used hanger, the shoulder-shaped wire hanger, was inspired by a coat hook that was invented in 1869 by O. A. North of New Britain, Connecticut. An employee of the Timberlake Wire and Novelty Company, Albert J. Parkhouse of Jackson, Michigan has also been credited with the invention.

In 1906 Meyer May, a men's clothier of Grand Rapids, Michigan, became the first retailer to display his wares on his wishbone-inspired hangers. Some of these original hangers can be seen at the Frank Lloyd Wright designed Meyer May House in Grand Rapids.

In 1932 Schuyler C. Hulett patented an improved design, which used cardboard tubes mounted on the upper and lower parts of the wire to prevent wrinkles, and in 1935 Elmer D. Rogers added a tube on the lower bar, which is still used.
I am really enjoying writing posts about items I think are cool and coming away with completely random historical knowledge. I hope my readers enjoy that too!
The Coat Hanger Coat Rack is available from Uncommon Goods for $76.
{ Comments on this entry are closed }