You knew I wouldn't be able to resist an owl item for Halloween week, right?
This owl lantern is affordable and fabulous, and could possibly fit into your decor all year, depending on how you feel about owls.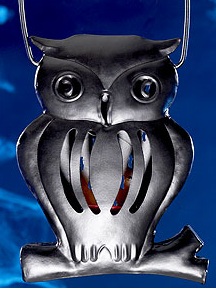 The description from World Market:
If you're looking for a spooky accent for your Halloween festivities, whooo can resist our Hanging Owl Lantern? Handmade from metal, this owl will appear to glow with wisdom when a tea light is place inside. He loves to hang out at Halloween parties or outside on your porch, welcoming trick-or-treaters.
Whoooo indeed. The owl lantern is about 6 1/2 inches high, and is available from World Market for $9.99. In addition, Halloween items purchased from World Market before October 2nd will receive free ground shipping, which means you have plenty of time to receive your items before Halloween. Happy shopping!
{ Comments on this entry are closed }