24. Clerks 2 (Not available to stream on Netflix Instant Watch)
[youtube gLvhJ0m5ask]
Clerks 2 is the last film (so far) in the View Askewniverse series, all written and directed by Kevin Smith.
It takes place roughly 10 years after the original Clerks film, and features the 2 main characters from the first film, Dante (Brian O'Halloran) and Randal (Jeff Anderson).
Also featured again are Jay (Jason Mewes) and Silent Bob (Kevin Smith), still drug dealers but having just completed a stint in rehab.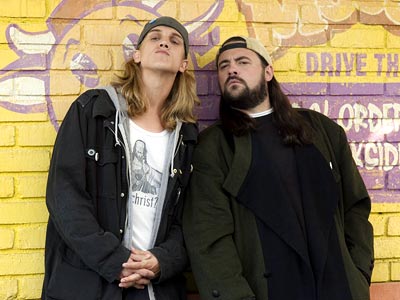 New characters introduced in this film are Becky (Rosario Dawson),
Elias (Trevor Fehrman),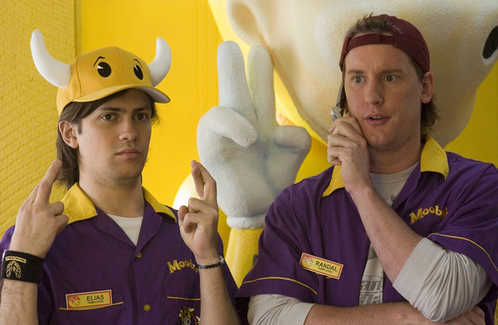 and Emma (Jennifer Schwalbach).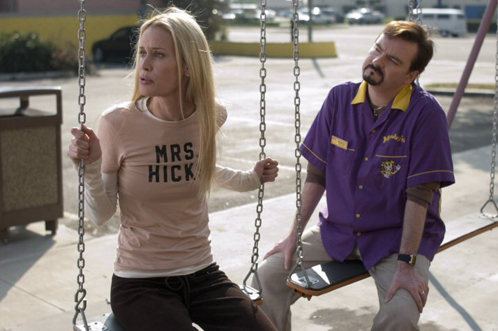 Clerks 2, like the original, takes plan over the span of a single day.  We find out at the beginning of the film that Dante and Randal have been working at a fast food establishment since Randal inadvertently burned down the Quick Stop, their place of employment during Clerks.  It's Dante's last day before he moves to Florida with Emma, his fiancee. Naturally, the day doesn't go as smoothly as planned, and the day ends up with an unplanned pregnancy, a dance number and a donkey show.
I really liked this movie – so many people were worried that Clerks 2 would suck in comparison to the original film, and this movie doesn't try to be that.  Yes there are things that are reminiscent, but it tells a new story about these friends and has a lot of heart.  I've watched it quite a few times and I really like it.  It is definitely watchable, and definitely one to own.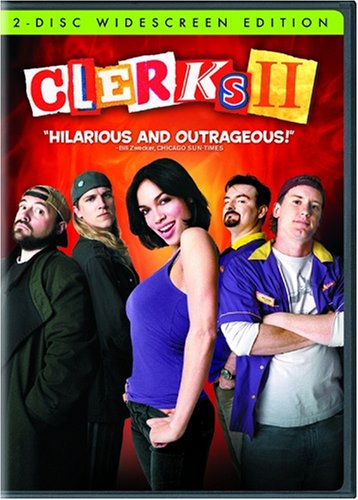 Clerks 2 is available on DVD from Amazon for $7.99.
Here are the posts for all of the View Askewniverse movies:
{ Comments on this entry are closed }