22. Chasing Amy (Not available to stream on Netflix Instant Watch)
Here's the trailer for Chasing Amy.
[youtube PR4rVGiKC9g]
Chasing Amy is the 3rd in Kevin Smith's View Askewniverse pictures, and was the follow-up to Mallrats which was less than super successful in the theatrical release. Once again, we're presented with 2 main male characters Holden (Ben Affleck) and Banky (Jason Lee) –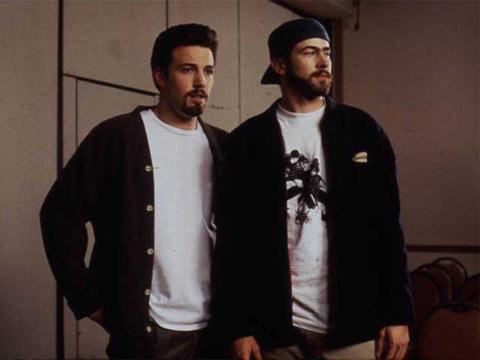 – although the movie becomes more focused later on the relationship between Holden and Alyssa (Joey Lauren Adams).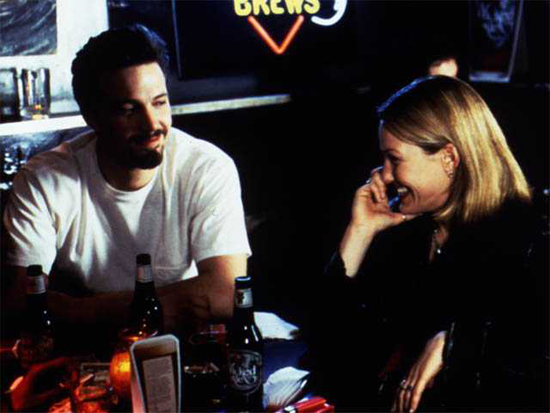 Holden and Alyssa meet each other at a comic book convention, as both write their own comics and have a mutual friend in Hooper X.   They hit it off the first night that they meet, and during their second outing, Holden discovers that Alyssa is a lesbian and their attraction to each other is not as he had imagined.  They become friends and things progress beyond that, other information comes to light and drama ensues from there.
While people expect comedy from Kevin Smith movies, this movie has a few heavy moments and a lot of heart.  I have laughed and cried during multiple viewings of Chasing Amy.
Jay (Jason Mewes) and Silent Bob (Kevin Smith) also appear in the movie, and while they have a short appearance, Silent Bob drops knowledge that moves the story along well.
Dwight Ewell also gives a great performance in this film as comic book author Hooper X.
The Chasing Amy Criterion Collection DVD is available from Amazon for $9.69.
{ Comments on this entry are closed }