52. Sixteen Candles (Not available to stream on Netflix, available to buy and rent digitally from Amazon)
Here is the trailer for Sixteen Candles.
[youtube WcKqtzj8LAg]
Sixteen Candles is one of the classic John Hughes films of the 1980s.  Our main character is Sam, played by Molly Ringwald, and in the midst of her family finalizing preparations for her sister's wedding, they forget about her 16th birthday.
Sam goes to school and complains about her situation to her best friend about the situation and also reveals her feelings for a cute senior at school named Jake Ryan.  During a class, Sam completes a confidential survey about who she's interested in, and naturally, she drops it so that her confidentiality is blown because the boy she likes finds it.
Cute boy.
The rest of the day is spent in a mess of miscommunication and near misses.  Sam and Jake attend the same school dance and when they have a chance to speak, Sam wimps out.  Jake leaves the dance with his unfortunate girlfriend, and Sam goes home sad.  There's a whole situation with some panties but I'll leave that for those who want to watch the movie.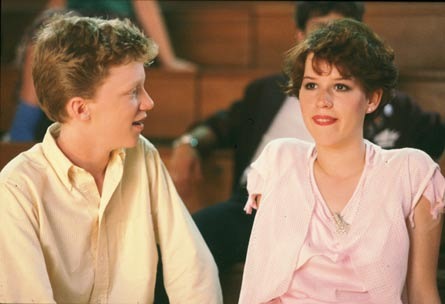 I really enjoyed this movie, even though it is full of really awkward moments that make me uncomfortable.  It is definitely worth a watch, and I think a DVD to own, as all John Hughes movies should be.
Sixteen Candles is available on DVD from Amazon for $5.99.
{ Comments on this entry are closed }