Click here for all Formula One-related posts on JamieSanford.com.
Be sure to check the Formula One wiki for more complete results, or visit Planet F1.
Photos are from Planet F1 unless otherwise noted.
Hungary
Time to visit the Hungaroring in Budapest for the last race of the first half of the season. We now have a 4-week break, before launching right over to Belgium for the start of the second half of the season.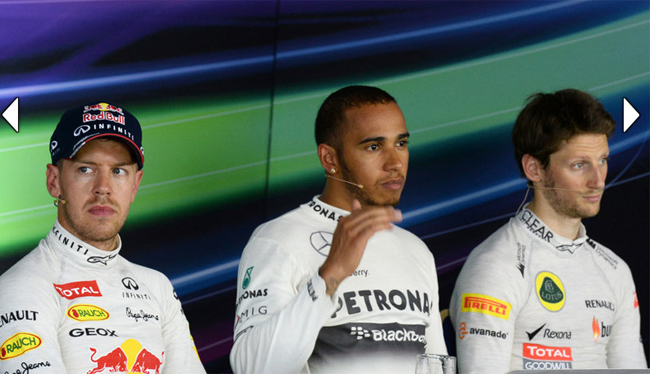 The best moment of Saturday's qualifying was Lewis Hamilton's absolute shock at achieving pole position. He was SO surprised on the team radio, it was absolutely great. Sebastian Vettel was really planning on breaking a record held by Nigel Mansell, and Lewis ruined it for him, which is I guess why he looks pissy. In P3 was Romain Grosjean, who looks really unhealthy.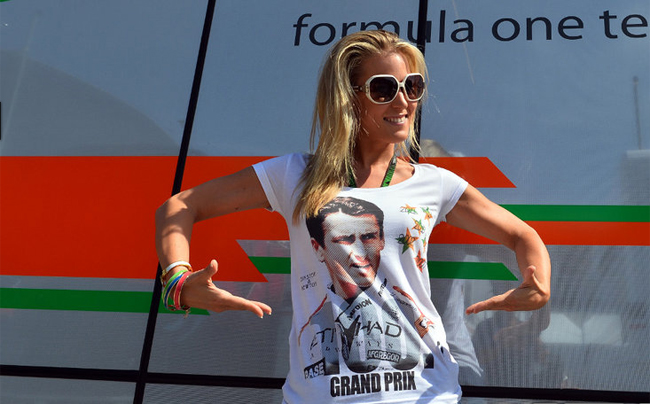 Adrian "I Stabbed A Guy" Sutil was starting his 100th grand prix. His fearless girlfriend was celebrating with this situation.
After what happened during the start in Germany, I was worried for Lewis Hamilton, but he JUMPED at the start and pulled ahead. He managed to have a nearly flawless race. The Ferraris also had great starts from further back.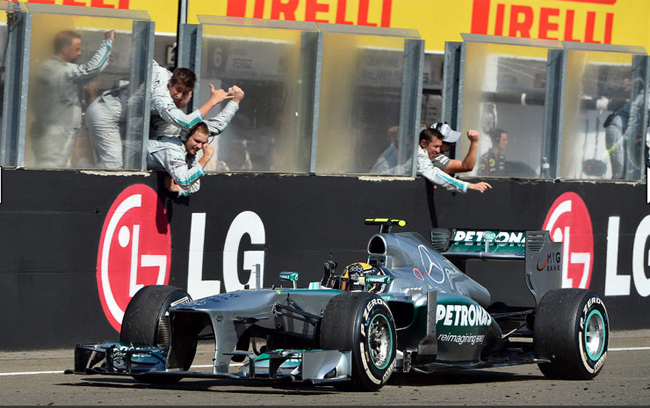 …and Lewis won the race! It was his first win with Mercedes, his new team. Shoutouts have to go out though, to Kimi Raikkonen, who managed to stay in second with Vettel ALL over him for the last few laps, and Mark Webber, who only cares about being AWESOME during his last few races in F1 and was setting fast laps like crazy towards the end of the race.
Who knew that Ross Brawn was so gigantic? Or, F1 drivers are teeny tiny. I think that the guys are partly just happy that the race is over, because it was incredibly hot in Budapest.
{ Comments on this entry are closed }