Click here to see all of the previous Polish Project posts.
120. Color Club Hologram (I can't find this online to link to.)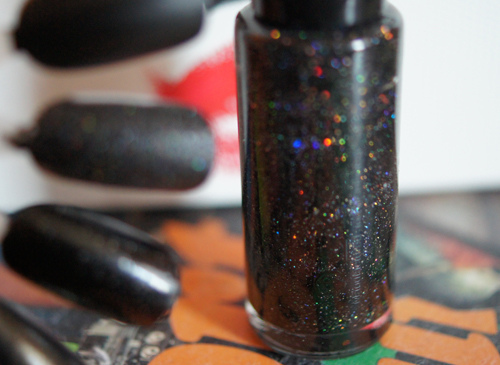 This is a random nail art polish that I picked up a while back. I have never really used it but it looks pretty in the bottle.
You can see the unfortunate texture happening here.
Here's the brush, which you can see is really long and weird. It was just sort of messy overall.
Thoughts: It's pretty but I can sort of recreate the look with other things I have, and application is almost impossible. If I am supposed to use this for nail art, it would probably not work out.
Verdict: I already tossed this since I don't wish this chunky polish on anyone.
121. Revlon Mistletoe
122. OPI Pirouette My Whistle
Not so much focus on that OPI bottle, but you get the idea.
Base coat of Revlon Mistletoe, OPI Pirouette My Whistle topcoats on the index and ring fingers. Mistletoe is a weird blackish base with sort of a muted gold thing happening in the glitter bits, it's hard for me to explain. It applies well and dries fast. The Pirouette My Whistle is a mix of big silver glitter bits and smaller glitter bits that appear to flash purple.
Thoughts: I wanted PMW to be a dupe of Servin' Up Sparkle which I LOVE but it isn't at all. It's still a great topcoat though. Mistletoe is sort of meh for me. I am not obsessed with it.
Verdict: I think I will keep Pirouette My Whistle and part with Mistletoe.
{ Comments on this entry are closed }