Click here for all posts in the Brand Experience Project.
Neiman Marcus is the brand on display during today's experience project. I made an order with a gift card months ago to take the packaging photos, and just re-purchased an item to take proper screenshots of the site for this blog post. Unfortunately, this experience overall is a bit bi-polar.
Shopper Experience
The Neiman Marcus website has been amazing visual porn for years. I love it.  Sometime in the last few years, they switched over to a flashy version that was very "techy" and seemed to be redesign for the sake of redesign. Luckily it didn't last long, the flowy, flashy version was quickly reverted back to the original design.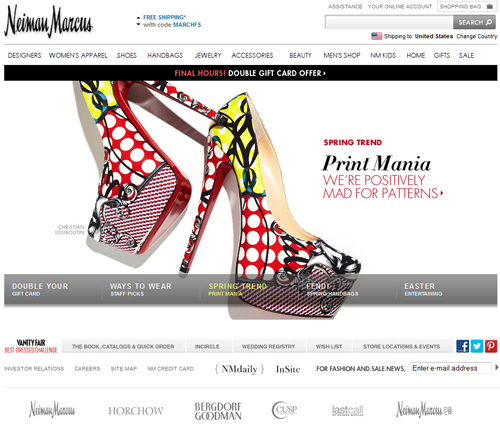 The homepage is easy to use with the standard rotation of events and sales. Props to Neiman Marcus for wonderful product photos. I will talk more about that later.
I chose the print banner on the homepage, and am delivered to a lovely Neiman Marcus search result. Note their events listing on the left – there are lots of ways to drill down products on their site.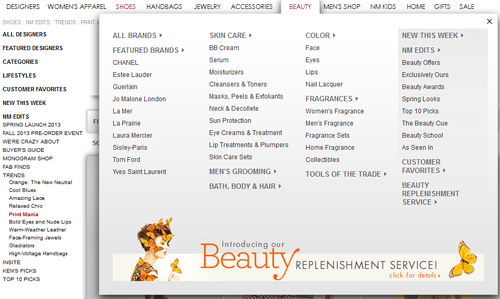 Since I knew what I was really after, I chose to use the main navigation dropdown menus to purchase moisturizer.
Similar to the collection result is the beauty result, where I can navigate the entire beauty department on the left.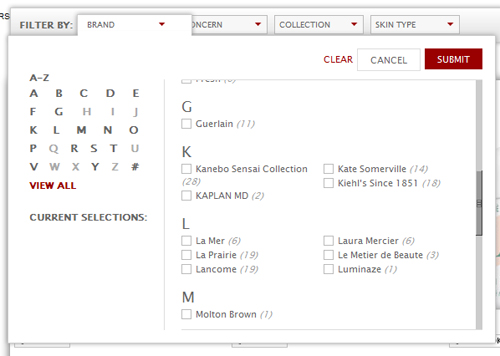 I knew I was looking for Kiehl's, so I chose to filter results by brand.
I then went back to the left menu and chose "all brands" which gave all results for beauty brands.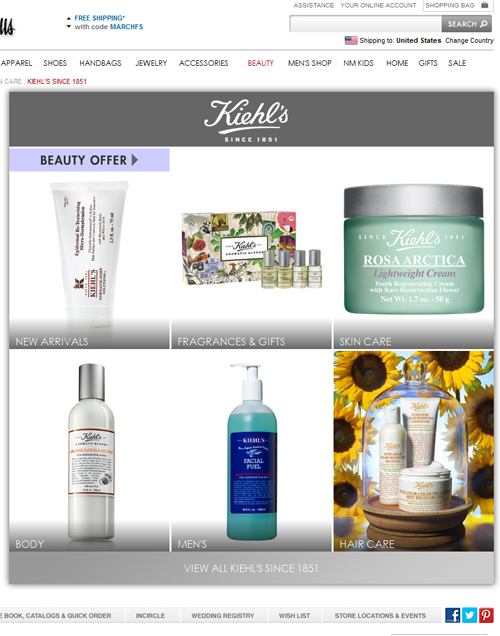 The brand page has categories covered, with more lovely images.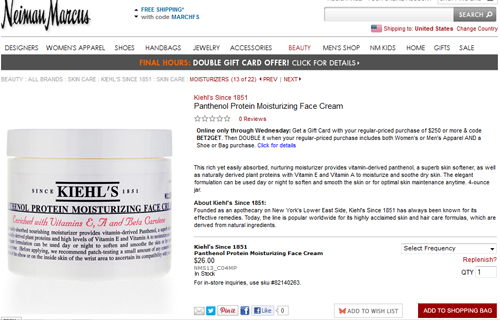 I drilled down to moisturizers, and found my product of choice. The product page here is very straightforward, informative, and lovely.
As I'm seeing a lot more with beauty items on many websites, it gave me the opportunity to sign up to auto-purchase this item at a chosen interval.
Pop-up shopping cart. Let's proceed to checkout!
Checkout
I don't know what generates the content for "May We Suggest," but it seems sort of random.
I appreciated the reminder at the top that I will get free shipping if I use the code. However, before I plugged that in, there was a convenient pop-up showing the shipping info before I have to choose. I do wish the dropdown had the prices built in, instead of HAVING to review the pop-up, where the prices are at the bottom of a lot of content, and not the top. So this is a tiny thing that could be improved.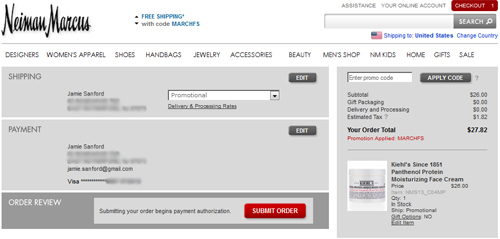 I really like the succinct confirmation page. Granted, I'm only ordering one item, and I wonder how many items are on a standard Neiman Marcus order. It seems that packing all of that information onto the right column might be unfortunate if someone has 15 items in their cart.
My order is complete. I really like the "Look what I just got" and the "Save my information" options. I sent a screenshot of the sharing feature to the web developer I'm currently working with. Again, I would love to have stats on the use of these tools, but I don't work for Neiman Marcus.
What I also love here is the Printer Version button, and the option to include photos or not. It's so easy and obvious, but I haven't seen it before. I might not want to print a picture and waste my ink on that. (I don't really print anymore, don't we all just made PDFs?)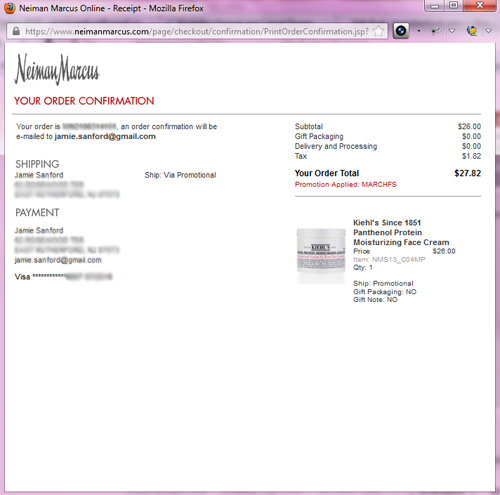 Here's my Printer Version. I chose the pictures and printed a PDF. I'm sort of unhappy that there isn't anything here about the timing of my order. What is the estimated time of turnaround from now to when my order will be shipped to me? It seems unlikely that NM would be unable to figure out estimates for most items they stock on their website.
Finally, I get an estimate on when I will receive my item in the confirmation email. I'm glad I didn't really need that moisturizer in the next 13 days. I do think an improvement on not only cost, but delivery time based on your shipping choice would be a good addition to the checkout process.
The general look and tone of the email is in line with everything else from NM, so this is not a big departure. My overall shopping experience was really lovely. As I mentioned before, the product imagery is really spectacular, and when you're selling a lot of high-end brands and everything looks amazing, it almost replicates the feeling you actually get in the store.
Packaging
On to packaging of the order I received for my last purchase from NeimanMarcus.com.
Not a branded box, but we did get the logo on the shipping label.
I was impressed at the very specific identification of the person who packaged my order.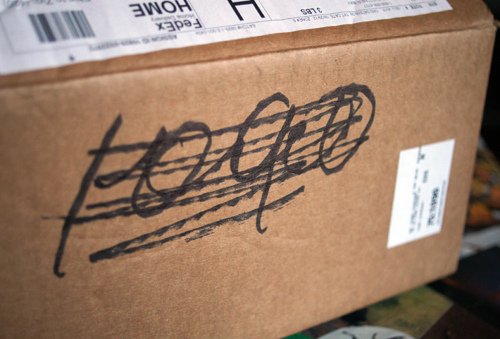 Is this a FedEx thing, the writing on the box? The fact that this number is crossed out makes me worry that my box was used before it became the box destined for me. No way of knowing this though, so I cannot put it onto NM.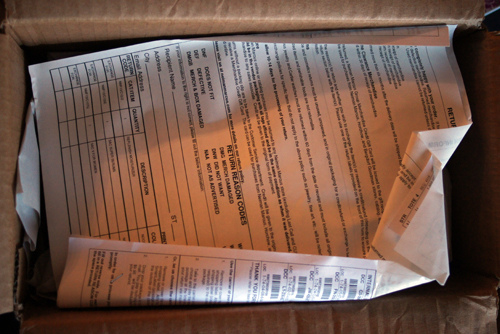 This is where my confusion goes into overdrive. 2 photos ago I showed you a sticker saying my box was professionally packed. How is it professional to not take the time to at least fold my packing list in half? This was really upsetting to me, because after my lovely experience with an organization that is clearly designed to give a high-end experience, this craps all over that. I am pissed off that this is just shoved in the box without a care in the world.
Random samples underneath the mangled packing list. I'm always happy to receive free beauty samples.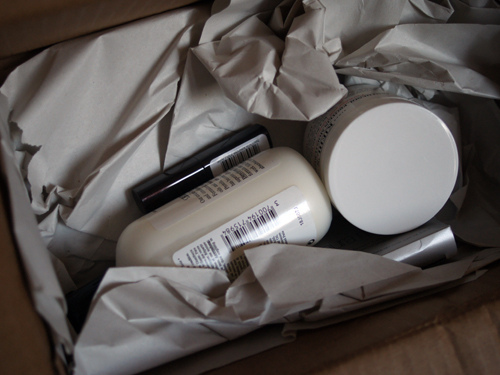 I picked up the samples and moved some of this very basic and unimpressive beigey packing material to see all of my items pushed together, sort of padded from the outside of the box. It's not the best packing job I've seen, but it isn't the worst either. All of my items were unharmed, but they are also items with only a slight chance of breaking during transport.
So, this experience with Neiman Marcus started out wonderfully. It's really a pleasure to browse the site. It has a lot more going on than say the Solestruck website I talked about a few weeks ago, but that's to be expected given the array of items offered. While Neiman Marcus has numerous categories and thousands of items, navigating through them to shop is not overwhelming or difficult. The information during checkout was a bit murky, but nothing earth-shatteringly terrible. My biggest issue was clearly the treatment of the package that I received, and the contents. Noting on the outside of the box that my items were professionally packed – and then having the experience I did, was incredibly disappointing.
I would recommend that Neiman Marcus does a review of their professional packers and perhaps set up some standards for things like packing lists. The internal wrapping was acceptable, but it didn't feel like it was in line with the Neiman Marcus brand.  The disconnect between the website experience and the package experience was significant. What about people ordering gifts online? I would hate to order something from NeimanMarcus.com and have a package arrive to someone with the contents in the condition that I received.
Here is the score card for Neiman Marcus. Have you shopped on NeimanMarcus.com? What was your experience?
Save
{ Comments on this entry are closed }