I own this product, so I can provide an honest opinion about it.  I paid for it myself, no disclosing needs to be done.
Feast your eyes on these 3 massive deer head wall decals!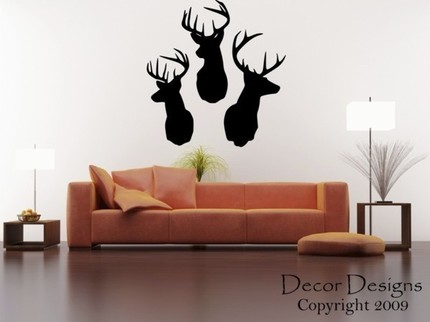 I have these incredibly large deer heads over my entertainment center.  For me, it was a nod to the real deer heads that adorn the walls in the "game" room at my parents' house.
I was a bit worried about the application process – we had never done any sort of application like this before and so it was a learning experience.  However, the fine people of Decor Designs do provide a link to this video, which helped a lot.
My advice to anyone doing this is to take it very slow and be meticulous about rubbing the decal onto the wall.  If it is done properly, it is easy to peel off the backing and end up with a spectacular result.
Decor Designs has a big selection of wall decals available in their Etsy shop, and the deer head decals are available for $44.99.
{ Comments on this entry are closed }