(Today's guest post was contributed by Kelly Kreth. I "met" Kelly online around 10 years ago, and since then she's made me jewelry, she's been the subject of one of the best photos I've ever taken, and thoroughly kicked my ass in Facebook Scrabble. Check out her new blog which explores optimism and pessimism with great humor and frankness.)
Before I begin, I want to make all readers aware that the one thing—actually the top three things—– I want most of all are not on this list. While these things are omitted because they can't be purchased, I must also disclose that I am not so altruistic that "world peace" is one of the three. I'm far, far shallower.
I've debated over how to organize this list. Should it go from cheapest to most expensive? Practical to most luxe? Or should it be grouped by likeness? I've opted to list them in a way that is more narrative than listicle:
I'm all about learning new things so the first group are not tangible items, but rather, EXPERIENCES:
A few years ago I took Fine Cooking 1 at the Institute of Culinary Education which has excellent Recreational Cooking Classes. I'd really like to take the second part of that. These comprehensive multi-day courses run about 25 hours over five days and cost about $595. Of course, I'd be happy with any of their one-day courses. Groups are up to 12 people whom you cook with and then afterwards you sit communally, drink wine and try-out your creations.
While I'm a Microsoft PAINT expert, I just bought Photoshop and would love to take a Graphic Design Course. Full-time classes run for three months; Part-time classes run for one year.  These programs run at $9,950.
I'm an avid reader and love all things literary. I've always wanted to be a part of the New York Public Library's Young Lions. Memberships run from $350 for the most basic program to a whopping $10,000 for the most comprehensive. Even at the lowest level, the events and benefits are thrilling. Drinks and debates take place at member forums, private film screenings are held with Q&As afterwards, etc.
I'd love to go on a two-week safari to Africa. Expect to pay anywhere from $5000 to $15,000 per person.
My favorite spa experience in Manhattan is in Koreatown at Juvenex Spa. I've been on the receiving end of a 90-minute massage and a 60-minute full body scrub and both were excellent. Prior to treatments, you are invited to use their igloo sauna and cold pool. After your treatments you are given tea and fruit. After 7pm the spa is co-ed and it is open all night. Seeing that this is a WISH list, I'd opt for the Full Day Premium with Spa Lunch & Gift Bag – Any 6 Treatments – $725 [plus tip] which basically includes any SIX treatments, lunch and gift bag. Yowza! I especially like that this is one of the few spas in the area that provide women and men with paper bathing suits; I've been to others that only provide towels and scrubs are done in public completely sans clothing. Yikes!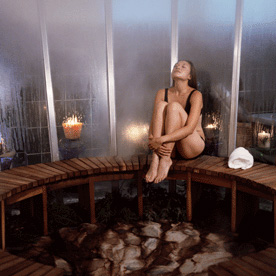 Several years ago I was the recipient of a certificate for a dinner for two with wine pairings to Per Se, one of Manhattan's most expensive and raved about restaurants. Located in the Time Warner Center, it took me about a month to get reservations, but it was surely a birthday dinner to remember. Each day there is a new nine-course tasting menu (plus amuse bouche ) that is $275 per person and also a vegetarian tasting menu which costs the same . Wine pairings are about $150 extra. One of the things I recall most—I'm a bit fuzzy because I had a glass of wine with each course—was the incredible butter. The waiter explained it was from the same set of cows in some exclusive farm. Again, sketchy on the details, but not on the amazing taste.
As you can probably tell from the aforementioned experiences I desire, I'm a hedonist—a very lazy one. Hence my yearning for a full-year of weekly maid service from Maid for You New York. I have a 750 sq. ft. apt. in Manhattan, but the service can do any size residential or commercial space. Prices vary depending on size of unit and chores desired. I'd go for the works: cleaning, laundry, upholstery steaming, etc. Now if only they sent Teri Copley. [I think only olds will get that reference!]

---
Stay tuned for Part Two of Kelly Kreth's Holiday Wishlist which will feature more traditional, tangible gift items such as jewelry, clothing, electronics, music and books.
{ Comments on this entry are closed }