(Part 1 of 2)
We arrived at TPA on Tuesday, September 21. We got our luggage then headed over to the Budget Rent-A-Car desk, where we acquired a super hot 2011 Chevrolet Camaro, in YELLOW. I immediately posted a photo on Facebook.
Yeah, it was fun. I had to try really hard not to speed, throughout the week I used a lot of cruise control.
The rest of Tuesday was pretty uneventful – hung out with the family, had dinner, and got to see my nephew Cooper, the Boston Terrier.
We got up bright and early on Wednesday, with the intention of viewing the Airstream Ranch and then heading to Gatorland. We stopped for some Chick-Fil-A, and then made our way toward the Airstream Ranch, off of I-4.  We were greeted really warmly by the people at the airstream sales place, they even gave us an access map to get closer to the Airstream Ranch.  We drove back there in our not-at-all conspicuous YELLOW SPORTS CAR and proceeded to sort of get yelled at by someone who lives across the street from where we were parked. There was also a sign that said "beware of alligator" but come on, I grew up in Florida! Alligators aren't just walking around in fields, they are in water or are just warming up in the sun, NEAR the water, about 99% of the time.  I knew that the implication of an attacking alligator was ridiculous, but after being yelled at we decided to just leave.
Not 10 minutes later we saw the big fiberglass dinosaur on the side of the road, indicating our arrival at Dinosaur World.  Naturally, we stopped and went inside.  It was brutally hot and humid, but we paid the money to get in anyway.

Let me just say, the gift shop was more exciting than the dinosaurs.  I did get cool geodes for my nephews and magnets for my house and my mom's house.  We were in the dinosaur area for maybe an hour, it was easy to be quick as we were almost the only people there.  (Travel tip – if you like the heat and want to go to Florida, go during the 3rd week of September. Everything is so empty and there aren't really too many lines or crowds at all.)
Here are some pictures from Dinosaur World. The dinosaurs looked like they had been created in the 1950s. My favorites were the ones with human-looking arms. (Click on the image for access to the full set on Flickr,)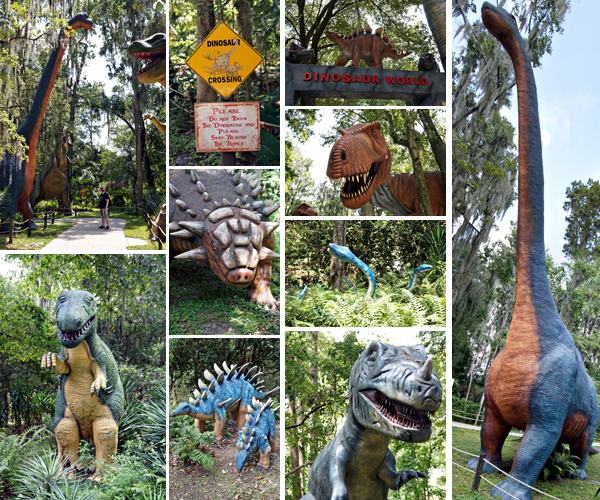 Once we got through Dinosaur World, we hopped back on the Interstate, allegedly headed to Gatorland, where I wanted to see the white alligators that they have obtained since we were last there a few years ago.  That thought left Will's head as soon as we saw the plane on the side of the interstate advertising that we were approaching Fantasy of Flight. Will has pilots in his family, so soon enough, we were pulling in to the not-full parking lot and walking in to the building.
Oh! I forgot to mention that we managed to get to Florida just in time to experience love bug insanity. This is something I had blocked out of my memory of living in Florida for 15 years.  These bugs show up like twice a year en masse and are everywhere.  They were all over the front of the beautiful yellow sports car, lives ended senselessly because they just don't understand what "70MPH speed limit" means. They were also all over everything else, everywhere.  Luckily, they don't bite, they are just a nuisance that you have to swat away.
Anyway. We paid the admission fee for Fantasy of Flight, and soon were immersed in war! This entire place was so much cooler than I expected – I seriously would recommend it to almost anyone. We walked through this entire war recreation thing, including a B-17 that we got to walk through while hearing the sounds of war! (Bonus here again for going in September, we were in this area of the museum all by ourselves, which made for easy picture-taking and is always just more fun.)
After we left the war, we came out into a giant hangar with tons of planes, all refurbished and apparently having full flight capacity. We walked around for a bit inside the hangar, taking lots of photos, also finding a kids area where we got to try out simulators where we both controlled a hot air balloon and went hang-gliding.  I sucked at both, so naturally, Will did both with finesse and ease.  Whatever.
We went on the sort of backstage tour of Fantasy of Flight next, which was great as there were a total of 4 people on the tour. We rode around the whole complex, learned more about Kermit Weeks, who has an awesome name and a big love for airplanes.  Here's a selection of my photos from our time there. (Click on the image for access to the whole set on Flickr.)

When we returned from the tour, it was almost time for Fantasy of Flight to close, so we obtained more magnets and headed back to the car.  I had started texting with my college roommate Katie, and we planned some dinner at a restaurant in Orlando called Cafe Tu Tu Tango.  We started heading that way and realized that our hotel, the Doubletree Castle, was behind the restaurant, a great coincidence since Katie didn't know where we were staying when she suggested it.
We checked in, were handed warm cookies that seemed to appear out of nowhere, and got right up to our room. I booked the Doubletree Castle for 2 reasons. The first being that it was a mile from our Friday destination and the second being that hotels.com had a hot deal for $60 a night.  (One more thing to chalk up to September tourist adventures in Florida.)
After a quick change we drove around to the restaurant, and since we were early, settled in for a cocktail. Shortly thereafter Katie arrived with her husband Todd and their gorgeous daughter Olivia.  We secured a table and settled in for some drinks and some tapas.  Cafe Tu Tu Tango was a fun restaurant, you are surrounded by original art that is all for sale, there are artists is the center of the restaurant creating art while you watch (including this crazy/awesome dude called The Egg Man who had a big chicken on his head), and the food was yummy.  The only downside was that our service was slow. Over 10 minutes to get a draft beer? Come on.
Luckily, things don't seem to matter so much when the conversation is moving along.  We were entertained throughout the meal by little Olivia, who was hilarious and so cute.  We finished dinner and said our goodbyes, and Will and I headed onto I-drive to find something to do before heading back to go to bed.  Well, when you drive past Ripley's Believe It! Or Not Odditorium, you turn that hot yellow car around and go back.  I only took a few photos in the museum, mostly we were just having fun and I took a bunch of pictures of Tiny Edward with my phone.

So we spent a while walking around in there, laughing a lot, sitting in giant chairs and looking at chariots carved out of jade, and eventually made our way to the weird tunnel that made me feel a little bit like it was Friday at Feathers. We toured the gift shop and made it back to the hotel.
Part 2 of vacation adventures will be next week's link party!
{ Comments on this entry are closed }