Click here for all posts in the Brand Experience Project.
As best as I can remember, Gilt was really the first prominent flash sale site out of the gate. I've been a member for years but hadn't purchased anything in a long time. I saw that Mario Badescu, one of my favorite skin care brands, showed up.
Shopper Experience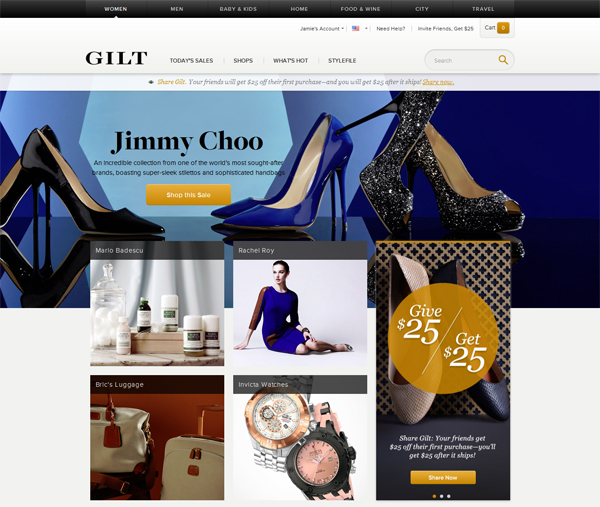 Gilt is another site that always has beautiful visuals. I'm assuming these are a combination of images from the manufacturers and their own images – but either way, the homepage always looks beautiful.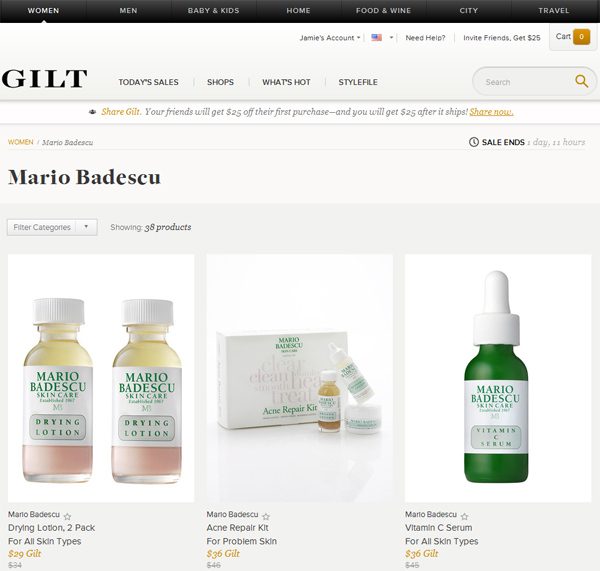 I navigated to the Mario Badescu event. This is obviously cropped, there were probably 40 items available. You can see that product images on white are used here, with short information about each item. I had some trouble finding the full item page, it took more clicking than I felt necessary.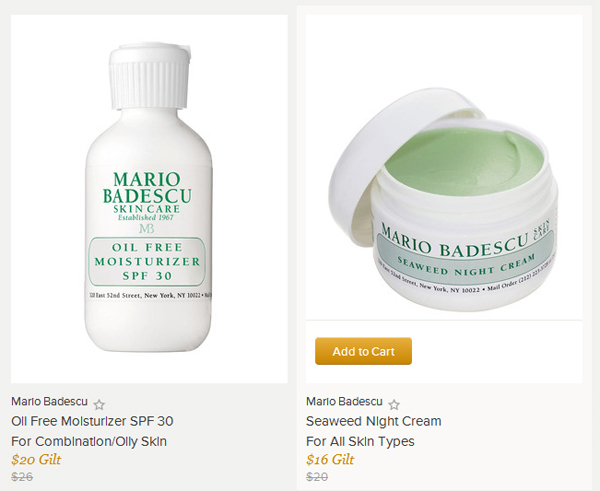 Here's a better view of my issue. I scrolled over the image, thinking I would get to the product page, but was presented with the "add to cart" button. I had to click above that faint grey line to reach the product page. It was mildly frustrating to have to figure that out. Adding a "more info" button next to the "add to cart" button would be a good addition here.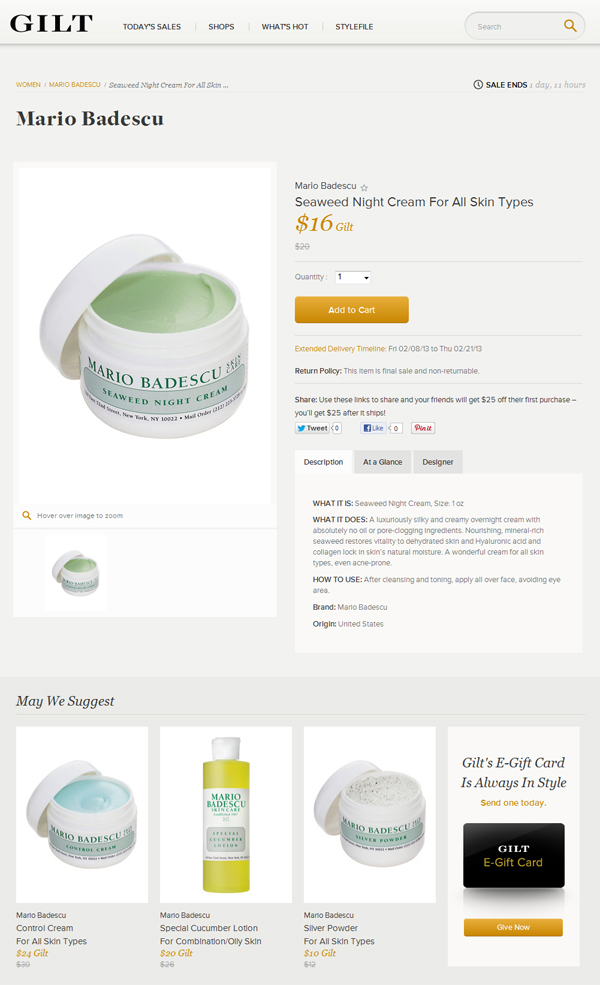 Finally the product page! It's quite helpful and informative. Information about the product function, an option to share the item via social media channels to earn Gilt credits, and an "extended delivery timeline." I'm assuming this is the safe way of giving the worst-case scenario?
Checkout
The pop-up cart (shown after adding an item) does sort of clarify the delivery information. I'm guessing that this item in particular has an extended delivery period so we are being informed of that. Good on Gilt for being very clear about it. I know I am not the only spoiled Amazon shopper, used to receiving items in just a few days.
The checkout page is pretty clean and streamlined. Everything is clear and simple enough – but I do have one problem with the shipping information. The "standard" option is chosen automatically, and you have to actually choose "economy" to load the page again with the price adjusted to $5.95 and the window slightly extended with a later delivery date. Why not show the pricing right next to the names?
I was hoping that the question mark next to "shipping" would help.
Unfortunately, the price information is not available here on the pop-up. I was let down when I clicked on the shipping policy link.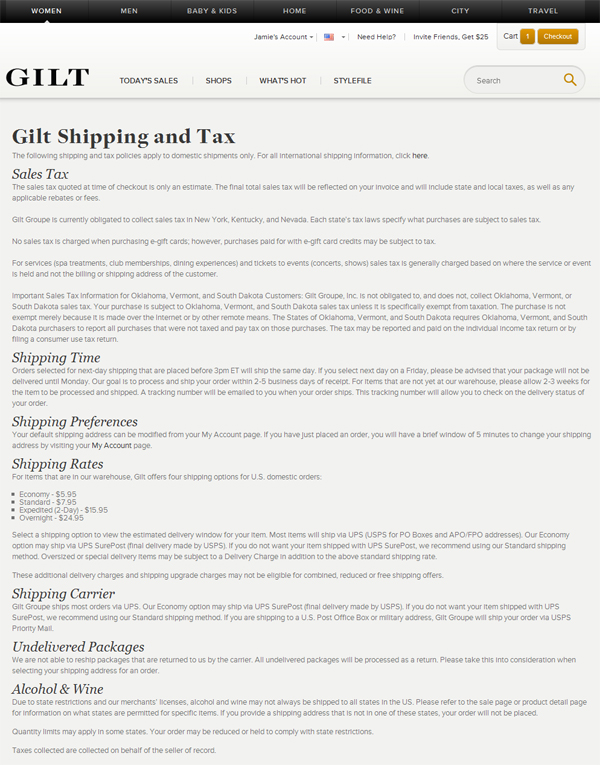 This page opened in the same tab on which I was checking out, which is incredibly disappointing. As noted in previous Brand Experience posts, I do not recommend actively letting customers leave the checkout page. Other than "continue shopping," which I give a pass for since its a clear indication from the customer that they want to perhaps add more items to their cart, every link on the checkout page should be a pop-up box with the information, or should open in a new window – not a tab. I would ultimately prefer a pop-up window so that the user still can see their checkout page open behind the new window, if an entire new window is unavoidable. (Obviously, considerations have to be made for pop-up blockers, etc.)
Let's continue with order confirmations.
This is a screenshot of the PDF confirmation I was offered. Basic and straightforward with estimated delivery time, a look at my order, a reminder of my savings, etc. Completely fine for me.
Here is the email confirmation I received for my order. A detailed look at my order, very clear information about customer service options, and of course, information on other things I might also like to purchase.
Packaging
Nothing special about the box. Not branded in any way. Unlike the last box I saw from Neiman Marcus, this one did not have writing all over it, just the basic stickers from UPS.
An interesting take on putting the packing list in a small box. This one was curved around the items within. Again, much better handling than the one from last week.
A bit curled, but not a big problem for me. I'm impressed that it stayed mostly intact having been placed in the box this way.
Pardon the grainy photo, but I liked the very prominent and helpful information on returns and customer service printed in the center of the packing list.
No padding or anything of my items. They are plastic jars, and would be incredibly hard to break.
And this was it for wrapping the items. You can see in the bottom of the frame that there were some air packets under them, but nothing wrapped around them other than the zip bag, which I think is a great idea, especially for potentially leaky beauty items.
Here is Gilt's report card. Once again, I find the aesthetic feel of the website completely incongruous with the experience of receiving my items at home. The site is really beautiful but the box and the contents were boring and standard. Yes, my items arrived unharmed, which is great, but again, I want websites to give me lots of reasons to come back. I know I am not the only person who still gets a thrill in getting a package, even something I ordered for myself.
Great web design and beautiful products are just a piece of the experience. Why spend thousands of dollars on making only 65% of a customer's interaction with your company enjoyable? Every chance you have to delight a customer is a chance to gain favor with them, which will turn into more business.
I would love to hear thoughts on this. In the instance of a website designed to offer reduced pricing, do you also have lower expectations of order packaging?
Save
{ Comments on this entry are closed }