This is the 3rd time in 2016 that I have felt compelled to record something in response to the death of a musician. This time, George Michael.
I don't remember when I first was exposed to the music of Wham! but I can definitely attribute it to having a teenage sister in the 1980s. No one listening to pop music didn't hear the music of Wham! and George Michael in his solo days. I remember when the Faith album came out and people were losing their minds over his sexiness. I remember the "I Want Your Sex" video being controversial and that I wasn't allowed to see it.
(I post a link to this video on my Facebook every year. Not only is the song great, but this video is an 80s masterpiece. George with that feathered hair and the fur-lined coat? It's the best.)
Listen Without Prejudice came, and along with it, a video that EVERYONE knew was iconic from the jump. It was the early days of "supermodels" and George was on top of it, naturally. It would actually be the second model-centric video, for "Too Funky," that I would like even more.
I'm gonna be the kind of lover that you never had, you're never gonna have another lover in your bed…
I was continually interested in George's music throughout the 90s. Even people in my age range, all graduating high school in the late 90s, we all seemed to identify with George's music, the hits in particular. I listened to "Father Figure" a LOT. I had the best-of compilation Ladies & Gentlemen, which was on constant rotation. I got to college and suddenly had high-speed internet for the first time, and also Napster. I ended up with a LOT of George Michael in my computer. The Older album was long-awaited and worth it. There are so many strong songs on that album, and "Fastlove" was quickly one of my new favorites.
Fast forward to 2004, and George has a new album out and a Behind the Music to go along with it. I remember watching the special multiple times, and totally getting into his sexually-charged single "Freeek."
The height of my George Michael experience came in late 2006, and completely by accident. Will and I went to London for a short honeymoon, a few weeks after our wedding. On the night of our arrival, we were forced out of a different exit than the one we wanted, and upon exiting, we saw this:
I'm pretty sure I freaked out immediately. However, we then noticed that all of the dates were crossed out, suggesting a sell out.
We were not dissuaded and proceeded to go over to the venue on our last night in London to see if we could get some tickets. I ended up negotiating with a random ticket scalper to pay face value for 2 tickets to the show. As I was at the ATM, taking out hundreds of pounds, it didn't even occur to me that we didn't even know where the seats were, since we knew nothing about the venue. In addition, the tickets were very large and didn't look like what we see in the US, so we didn't even know if they were real. We both held our breath waiting for them to scan, and sighed with relief when they did.
Little did we know that we had purchased tickets for the second row, in the absolute center. We were maybe 15 or 20 feet from George for most of the show. (Here's the setlist.) I distinctly remember getting to our seats and both of us freaking out when we realized how insane and lucky our purchase was. We just wanted to go to the show, but this was now going to be a THING.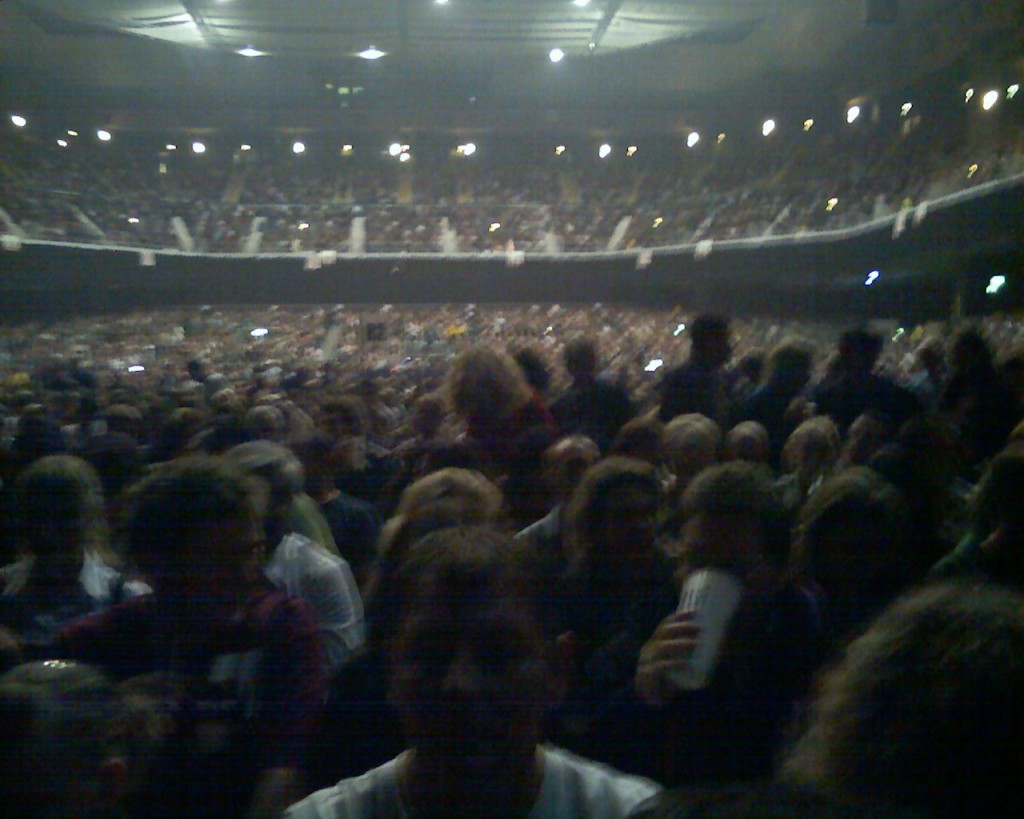 All that we have are terrible 2006 cell phone photos, but this is everyone behind us.
See those silhouettes in the front of the stage? That's where we are.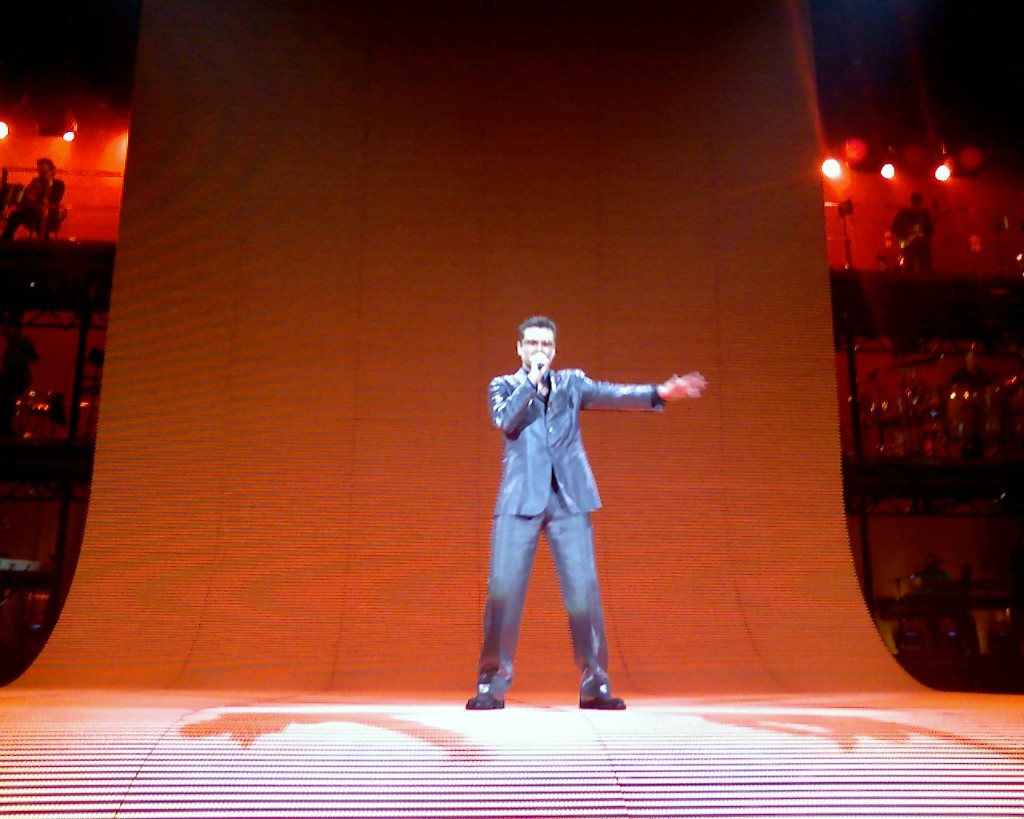 So close. This show was AMAZING.
We really had such a great time. It is hard not to, when you're this close, but the tour was specifically for the Twenty-Five album, another greatest hits effort, so obviously the setlist was really strong and a total crowd-pleaser. We both liked George before, but this really cemented our mutual love for George and his amazing talent and music.
George Michael has been in my regular music rotation for as long as I can remember. I cried and drank wine and watched the Ladies & Gentlemen DVD (yes, I have a George Michael DVD) at least twice after finding out that he was gone, trying to wrap my head around the loss of someone I didn't know, but that still had such a significant place in my life, through the constant presence of their music.
I love you George. Thanks for sharing your gifts with the world.

{ Comments on this entry are closed }