Click here for all posts in the Brand Experience Project.
Another Brand Experience post, another adventure. My introduction to FragranceNet.com was through my coworker Laurie. Laurie knows about the Brand Experience Project and brings me boxes and such to look at when she receives her items. Big shoutout to Laurie.
My intention was to go onto the site and make a purchase, but the prices were not as competitive as Amazon on the item I was looking for, and so I will not be ordering a new bottle of Fame perfume from FragranceNet.com. However, I do want to talk about their boxes, and the note that comes inside of them.
Packaging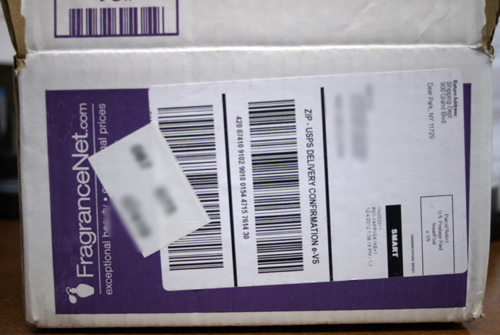 This box is not kidding with branding. The FragranceNet.com purple is everywhere, along with their cute perfume bottle icon.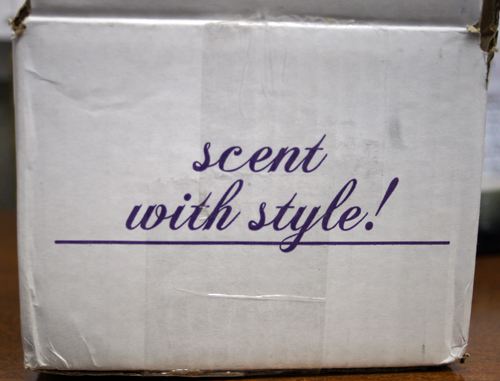 This boxing is reminiscent of The Body Shop which also utilized all of the available space on the box.
The only thing I would do differently here is to include a reference to their user names on these social channels. I work with a single name for all of them and would expect that from others as well, but it looks like one might have to hunt around to figure that out. It just makes it easier to find the account you are looking for if it is all consistent.
Love this! A coupon from the outside of the box. This is especially great when you consider the fact that a package delivered to your job will probably be seen by multiple parties. What would be the harm in scanning someone else's box to get a discount? I'm sure FragranceNet.com is not upset about it.
The last exterior box shot. It took a bit of a beating, but still looks pretty good.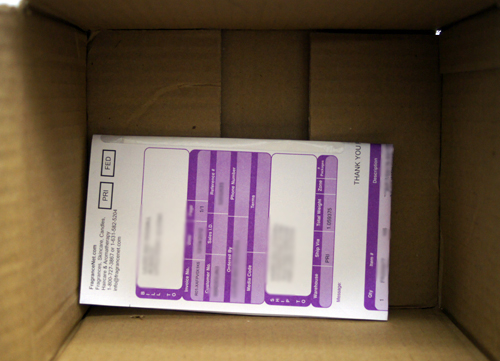 Neatly folded packing list/invoice. Snaps for this, it's so easy to do and when the list looks terrible, it looks like no effort was made at all. (Reminder: this is not my package so the products aren't here.)
Inside also is this little thank-you note. It's been discussed before that I love these.
In that same post, I mentioned how I thought that heavy card stock enhanced the experience. This paper choice left something to be desired, but the FragranceNet.com branded purple is once again in full effect.
Apologies for the darkness – The purple on the inside of the card is the same purple we have seen throughout, and I'm not sure what went awry with the image. The important part is the message. It feels very authentic, and lovely. Plus, coupon code to invite you back!
As someone who manages an e-commerce website, I especially love the "hurry expires soon" because I can only assume that it does NOT expire soon, but it's meant to get you to come back fast. Those inserts were probably printed in bulk (based on how much it costs to print things), so the coupon code will probably work for some time.
So, I will continue to keep an eye on FragranceNet.com, and will check back in when I place an actual order.
Save
{ Comments on this entry are closed }