Click here for all Formula One-related posts on JamieSanford.com.
It's been a bit over a month since the last Formula One race of 2014 – my first time attending a race, the last race of the season, etc.
I cannot tell you how much fun we had, how exciting it is, how the sound is NOTHING like what I expected, how watching races on TV is so far removed from the live experience. It was overwhelming and amazing and reverberating through my chest and WOW.
I didn't take nearly as many photos as I planned because I was doing the right thing and taking it all in.
We arrived at such a time that we would be able to see the driver's parade at 3:30. The race was scheduled to start at 5. We got there early enough to walk through a large area of shops and food merchants. After some chicken nuggets – yes, I went all the way to Abu Dhabi and had chicken nuggets – we got to watch the podium presentation for the GP2 race that had just finished and start waiting for the F1 action.
Will bought me this in the airport on the way to Abu Dhabi.
Pre-race selfie with William and his brother Andrew.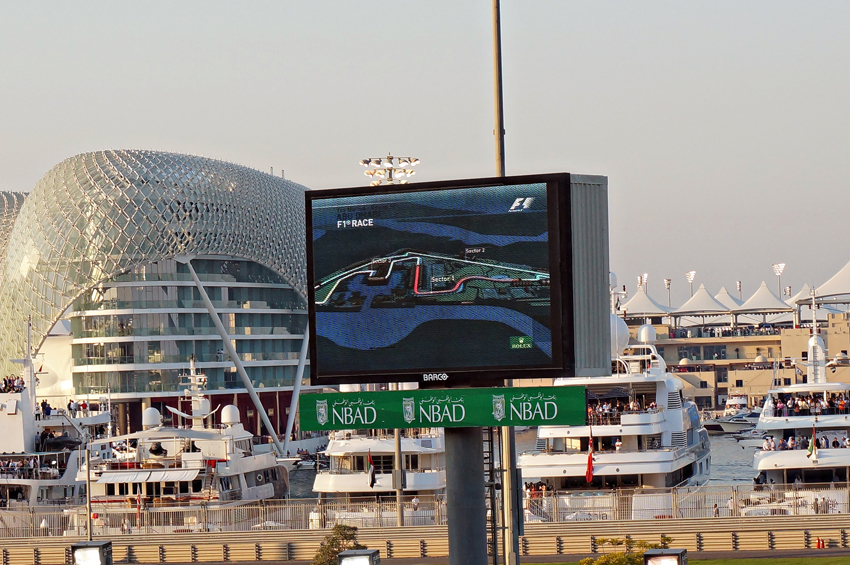 The biggest downside of going to a race live is that you can't see the whole track. Luckily there are giant monitors showing the feed that we see on TV to keep updated on the rest of the race.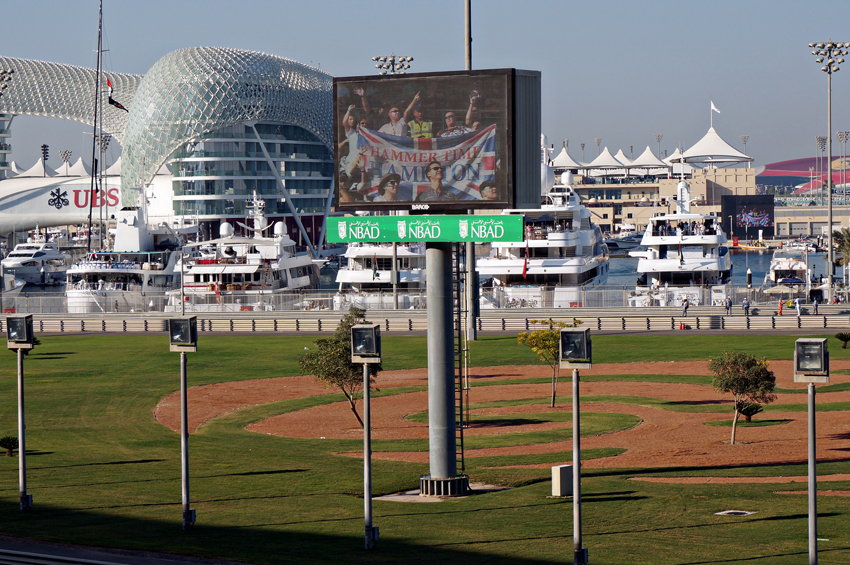 There was a HUGE contingent of #teamLH at the race, supporting championship leader Lewis Hamilton.
It was Fernando's last race for Ferrari. He's off to McLaren with Jenson Button as his teammate!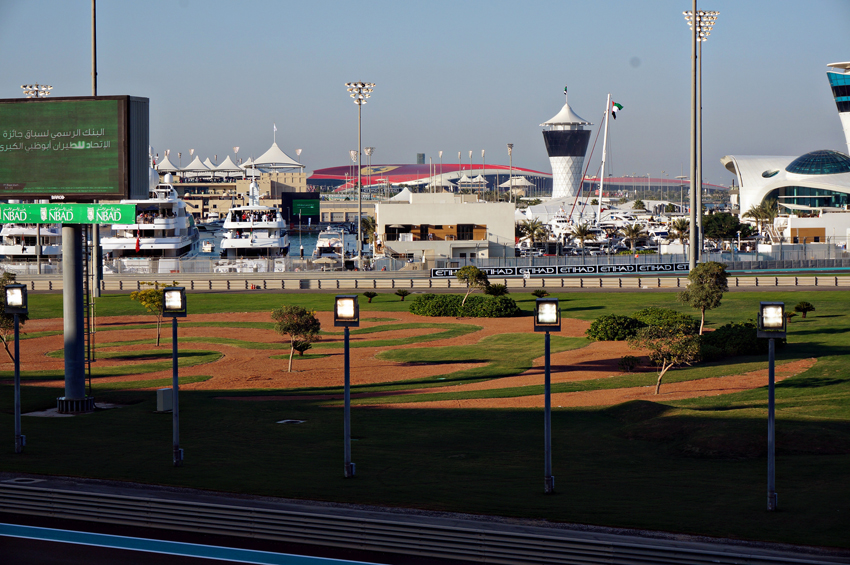 Ferrari World was viewable through the marina. We didn't get a chance to go but we will make it back at some point.
Our view to the left, unfortunately blocked, but we could see all the way down the straight. This was the DRS zone going into turn 11, we saw lots of action!
Here's a distorted panorama of our view. It was the turns in quick succession that were wonderful. Plus, after the hard braking, the guttural sound of the engine hit you square in the chest, which was amazing and intense!
Did I mention the start? It was crazy.
[youtube HoxY102d_sg]
Here's my Instagram video from lap 1. The crowd around us REALLY enjoyed Lewis' blazing start.
The transition from day to night was so well done – the track lighting is no joke. It was also noticeably cooler in the desert after the sun went down.
So, after the most insane start, Lewis managed to pull away from Nico quite effectively. Andrew used his phone to get access to a live feed of the team radio transmissions that we were not privy to since we were not watching the race on TV. We knew something was wrong with Nico Rosberg's car, which was confirmed later. Not the best for him, but ultimately, he and Lewis both finished the season with 3 races in which the car failed. Nico did manage to finish the race, but he was pretty far back as the car had multiple issues. Meanwhile, Lewis' car wasn't perfect either. If Felipe Massa had been given a few more laps, it might have been a victorious day for him.
We also watched some amazing moves and passes by Daniel Ricciardo. The Red Bulls had started in the pit lane because of illegal wings on the cars during qualifying, and both drivers did really well. Ricciardo finished 4th, Vettel 7th.
Side note – Formula One cars are BEAUTIFUL in person. It is not something you capture on television, but they are absolutely lovely. My favorites were the Red Bulls, Ferraris, and Caterhams. I really need to make sure I get a pit walk on my next race outing because I need to see them closer than we could from our seats.
As it was, the podium finishers were Hamilton, Massa, and Valtteri Bottas. It was wonderful to watch Lewis' victory lap and also the podium ceremony. I am not sure that anyone isn't happy for him, he drove his ass off all season and I think is the clear champion. Nico Rosberg performed in qualifying, but races actually count and Lewis had MANY more victories.
We really did have the best time. It was immediately clear that we would need to start planning to go to more races because this was GREAT. It was capped off by Romain Grosjean driving next to us in a tunnel near the circuit in a random Audi. He must really love to drive to be driving himself away from a race track where he has spent the last 3 days driving. I really hope he has a better season next year.
I don't know what else to say. I was SO excited to be there, as were my husband and brother-in-law, and I think that the day will forever be clouded by a veil of pure joy. It only cemented my love for the sport. I am already super excited for next season, and am still contemplating if we can make it work to go to the race in Montreal in June.
Thanks to everyone who reads my Formula One-Derland posts!
{ Comments on this entry are closed }