Someone pointed this out on Twitter the other day and I have to share it here.  The Etsy gift finder is completely brilliant, but does require use of good judgment.

So you visit the site, and you choose a Facebook friend and it provides gift suggestions based on the information they've given in their Facebook profiles.  My test subject is one of our favorite guest bloggers here at The Daily Wishlist, Kelly Kreth.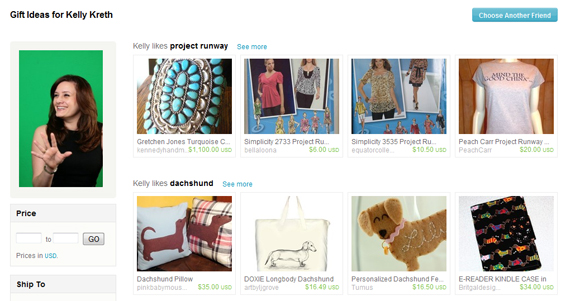 Kelly's profile is really robust, so this page continues long after my screenshot here, but you get the idea.
I asked Kelly to comment on the results that came up for her:
"While I think the FaceBook/Etsy Gift Finder is a genius idea, it is better in concept than execution. After Jamie did mine and I found it way off base, I tried it on some other friends and it equally missed its mark.

Considering there are tons of profanities, dark and perverse status updates and pictures of the darker side of life on my FB page, the fact that the gift finder found dachshund pillows and tunic shirts that only a grandma in the Midwest would wear is disconcerting. I'm glad my computer is not allowed to purchase presents for me. Also, while I would never get a Kindle or any kind of e-reader, if I did, I certainly wouldn't cover it in dachshund-themed coating."
So clearly, the gift finder can give you some guidance, but you still need to have some sort of mental filter in place.  I used it for my friend Alex too and found some things I would definitely buy for her.
Side note: I really love Etsy, and even moreso, I love the idea of supporting individuals when buying things whenever possible.  I bought a vintage item from a seller recently and it was a quick and easy experience.  I've also purchased electronic/digital items this year, including the design of the updated logo and header for this very blog – from Etsy seller Winchester Lambourne, who I would highly recommend.
Anyway, get going on over to the Etsy Gift Finder if you're still shopping, let Facebook and Etsy help you find a gift idea for anyone left on your shopping list.  It won't solve all of your gifting issues, but may help you get on the right track.
{ Comments on this entry are closed }