This is another post in my "planning for Vegas vow renewal" series. I won a gift card to Neiman Marcus a few months ago from Boutiques.com on Twitter, and have been thinking I would use it to buy something fabulous for our trip to Las Vegas.  What other than fun and fabulous shoes would I go to first?
Miu Miu Peep-Toe Suede Bow Pump, $570. These are the most practical of the bunch, I think. I could probably walk around in these for a few hours before switching to flats.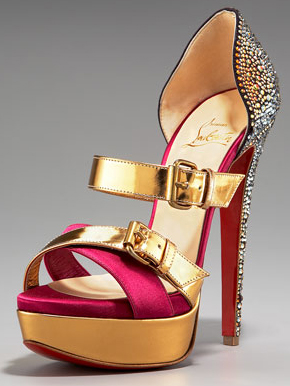 Christian Louboutin Ambertina Bejeweled Sandal, $2395. I think I've shown these on the site before, and I think they would look really good in photos.  I cannot imagine I would be traveling anywhere whilst wearing these shoes.  These are shoes that get put on for photos and then removed – they would end up as art on a shelf in my house.
YSL Iconic Platform Sandal, $760. If you subtract the platform height, the heel is only 3 inches, which is totally doable.  These shoes are fabulous but feel like they aren't quite "Vegas" enough for this situation.
Tabitha Simmons Cutout Lizard Ankle-Wrap Sandal, $1795. These are not friendly to those who don't eat animal products because these are fully lizard shoes.  The heel is almost 5 inches but is more substantial, which probably means I'd be able to walk in them for a while.  The only thing though is that in comparison to the other shoes, they aren't nearly as bright.  These strike me more as shoes to wear in New York in the fall with some fabulous tights.  It's a specific feeling for me.
More potential Vegas wedding shoes coming soon!
{ Comments on this entry are closed }