Click here to see all of the previous Polish Project posts.
15. OPI Show It and Glow It (previously tested in this post)
77. Sinful Colors I Miss You
78. OPI Excuse Moi
79. Sally Hansen Gem Crush Razzle Dazzler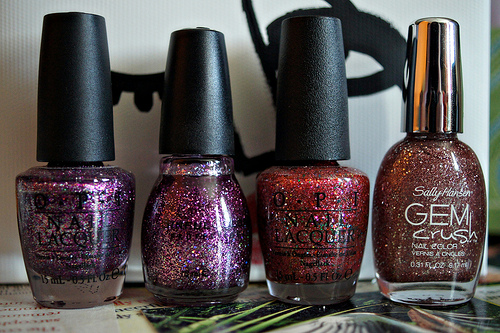 Welcome to the world of better images. I finally pulled out my DSLR so this should be improving. These are in order as listed above.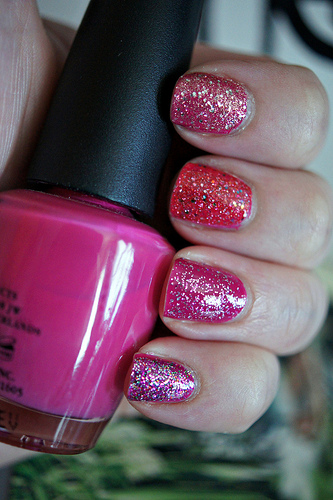 I tested all of these using OPI Pink Flamenco as the base. From the top: Razzle Dazzler, Excuse Moi, I Miss You, Show It and Glow It.
Thoughts: Another successful test of putting glitters over a solid base. Of course, I Miss You and Razzle Dazzler are meant to be topcoats (Razzle Dazzler is actually sort of the drug store version of Flurry Up which I LOVE), so that helped, but Show It and Glow It as well as Excuse Moi had good application and WAY better staying power over a solid base. You can see that the pink jelly-ish base of Excuse Moi changed the whole look of the nail and pretty much canceled out the Pink Flamenco. My biggest problem with this whole thing is that I don't have the accuracy in glitter polish application to completely cover the base color, which is frustrating.
Verdict: I Miss You is going into another battle with other random glitter topcoats that don't blow me away. Everyone else can stay.
{ Comments on this entry are closed }