63. Empire Records (available for streaming via Netflix and Amazon)
Here is the trailer for Empire Records.
[youtube bxsb4iBOG_M]
Empire Records is a story of a day, obviously in the 90s, for the employees of an independent record store on the brink of going corporate.  The film features Liv Tyler, Renee Zellweger, Anthony Lapaglia, Robin Tunney and a bunch of other, less famous actors.
It is Rex Manning Day at Empire Records, and the young employees are preparing for having a celebrity in their midst, especially Liv Tyler who is planning on bedding the famous singer.  We have already found out that another employee, Lucas, took all of the store's cash to Atlantic City the night before and lost it all during a game of craps.  The day goes on, and the staff deals with sharing their feelings about each other, meeting Rex Manning, trying to find a way to get around having to go the corporate music store route, and dealing with customer madness along the way.  This movie makes me wish I was 17 and working in a cool music store, instead of my actual reality which involved a green vest at Publix.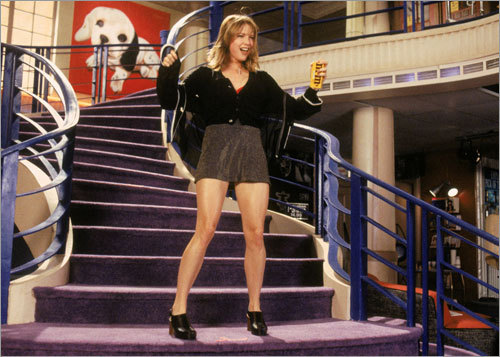 A really enjoyable part of this movie is the non-squinty and non-emaciated Renee Zellweger.
Plus, the soundtrack is pretty rad.
Empire Records is definitely worth checking out, and is available on DVD from Amazon for $11.33.
{ Comments on this entry are closed }