Click here to see all of the previous Polish Project posts.
115. OPI Teasy Does It
116. OPI Germanicure
117. China Glaze Harvest Moon
118. OPI Warm & Fozzie
119. China Glaze Electrify
115-118. OPI Teasy Does It, OPI Germanicure, China Glaze Harvest Moon, OPI Warm & Fozzie.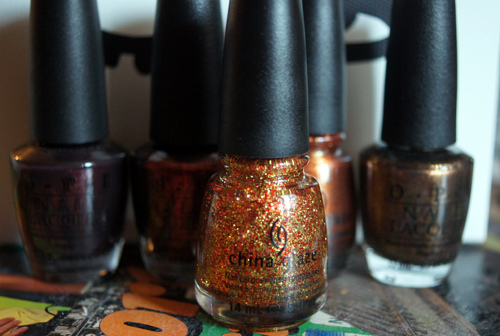 119 in the front. China Glaze Electrify.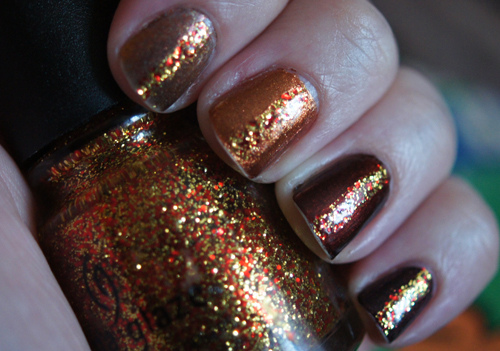 I did sort of end up with a gradient in the base colors, which wasn't exactly intended, but I will take it.
Teasy Does It is from the 2010 Burlesque collection. It's pink flecky shimmer in a dark burgundy base. Love.
I thought Germanicure was similar, but it is a totally different situation. Much redder, and the shimmer is a bit more subtle.
Harvest Moon is from the Hunger Games collection, which I didn't care about until I found them on sale at Sally Beauty Supply. I like this color, and I ended up with 2 bottles, so I keep one and my mom gets the other, because I think this color is definitely for her. I will just have to convince her to put something like Electrify on top, since Electrify looks GREAT on top of this, not just as a stripe but just scattered glitter over the whole thing.
Warm & Fozzie is one of these weird magical polishes that is about 10 different colors. It's pink and bronze and gold and I love it.
Also, check out the tip wear in these photos. I need to take pictures earlier in the process of wearing. Or I need to find a bangin' top coat that I can do a proper tip wrap with for nail protection.
So, there you have it. This was a fun manicure.
Thoughts: These polishes are all for me in a big way so I am down. I need to work on application to avoid the tip wear issues I have had.
Verdict: One bottle of Harvest Moon to Mom, I keep the other one and all of the other polishes.
{ Comments on this entry are closed }