The excitement of the 2012 Formula One season has CONTINUED. I am behind on the Formula One -derland posts, but you will still get the idea. The result so far has been 7 different winners of 7 races. At this time last year, Sebastian Vettel was annoyingly ahead in the driver's championship points, while right now, the spread between the top 5 is ridiculously close.
Spain
Spain was a bit controversial from qualifying, where Lewis Hamilton qualified P1 and then was sent to the back of the grid for having too little fuel in the tank at the end of quali. This seemed like an overly harsh punishment, and Eddie Jordan definitely agreed with me. This put Pastor Maldonado, who I was not expecting, in P1, but 2012 is a weird season so nothing should be surprising.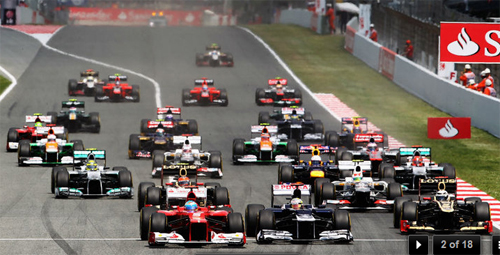 (Photos from Planet F1 – click for their full gallery)
Early in the race, Fernando "Eyebrows" Alonso pulled ahead of Maldonado from P2, and it was an eventual speedy pit stop by the Williams team that allowed Maldonado to take the lead back and hold on to it for the rest of the race. That started to get boring, so focus was put on other things like HIGHLY EXPERIENCED Michael Schumacher plowing into the back of Bruno Senna, who was already having a crap weekend of being completely shown up by his teammate. I felt bad for Bruno, and am sad to see Schumie having such a bad season, because his teammate has already won a race.
(Photos from Planet F1 – click for their full gallery)
The final result was Maldonado winning the race, with Eyebrows behind him, and Iceman Kimi Räikkönen in 3rd. Check out Kimi in the picture, looking thrilled as always. You can also see some amazing Eyebrows action.
(Photos from Planet F1 – click for their full gallery)
Still not sure about this champagne business.
Monaco
Ahh, Monaco. You are the fanciest of grand prix, with your rich people and fancy yachts, and lots of Formula 1 drivers as residents because you are a tax haven.
(Images from Planet F1 – check out their gallery here)
Qualifying was busy, as Pastor Maldonado caused an unfortunate crash with Sergio Perez that ended with a 10-spot grid penalty. Michael Schumacher would have started on pole (notorious for being the winner's position due to the lack of overtaking that generally takes place in Monaco) but his grid penalty from the last race where he crashed into Bruno Senna was enforced putting him 6th on the grid. Mark Webber ended up on pole position, with Nico Rosberg and Lewis Hamilton behind him.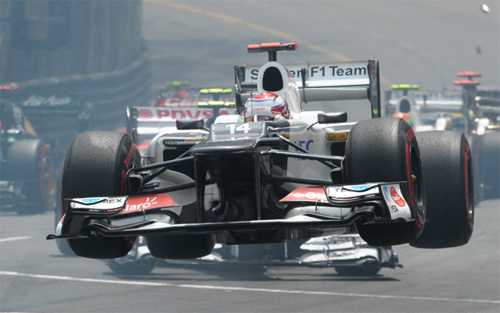 (Photos from Planet F1 – check out their gallery here)
Going airborne is generally frowned upon. Unfortunately, Kamui Kobayashi clipped another car during the start and managed to survive the car jumping into the air, but only enough to drive to the pits and retire for suspension damage. The top 3 in the grid held out the race for a while, and it was obvious that pit stop strategy was going to play a big role. There was some turnover in the ranks, but nothing major. Monaco seems to be more of an endurance race than anything else, because those drivers have to WORK to not hit walls and such. There was a bit of movement in the ranks, but the result was Mark Webber winning the race, Nico Rosberg in P2 and Eyebrows Alonso taking the last slot on the podium.
(Photos from Planet F1 – check out their gallery here)
Then this happened after the race. WTF, Mark Webber.
Canada
Canada is quickly becoming my favorite race. Last year and this year were AWESOME, I'm thinking the track is just designed in such a way that there is always something happening. Last year, Jenson Button awesomely (yes, awesomely) won the race after Sebastian Vettel slipped around a corner, which is the thing I remember the most. This year was FULL of overtaking and positions changing, and I did a lot of yelling at the TV.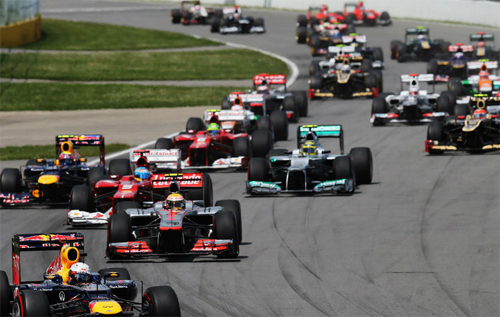 (Photos from Planet F1 – check out their gallery here)
Sebastian Vettel (who I like a tiny bit more since I watched him on Letterman) was on pole position by a big margin after qualifying. However, his early lead didn't last long, it was another race where pitting at the right time would completely change your positioning. Lewis Hamilton, Eyebrows Alonso and Romain Grosjean were all in the lead at some point, but in the end, tire strategy was the determining factor for the victory. Lewis stopped again to change tires, and ended up winning the race, while Romain Grosjean and Sergio Perez had no trouble passing Vettel and Eyebrows, as their tires were just done. I was happy that Lewis finally got to win a race, he has been qualifying well all season but could not pull out a victory, so good for him.
(Photos from Planet F! – click to see the whole gallery)
Lewis also has a better handle on the champagne situation, not setting himself up for creepy photos. Congratulations Lewis!
Valencia and Silverstone coming up in a few weeks. I can't wait to see who the first repeat winner will be!
{ Comments on this entry are closed }