10(!). The Runaways (Available to stream via Netflix Instant Watch)
Regardless of the fact that the movie is named after the band, it is about Cherie Currie and Joan Jett.
[youtube uHpEJ749TRM]
I have wanted to see this movie for a while – being aware of the Twilight world means being exposed to information about all of the other projects going in with the Twilight cast members.  Both Dakota Fanning and Kristen Stewart are starring in The Runaways, so there was lots of coverage, and lots of excitement when photos made their way out into the world of the two of them in character.
Like this one.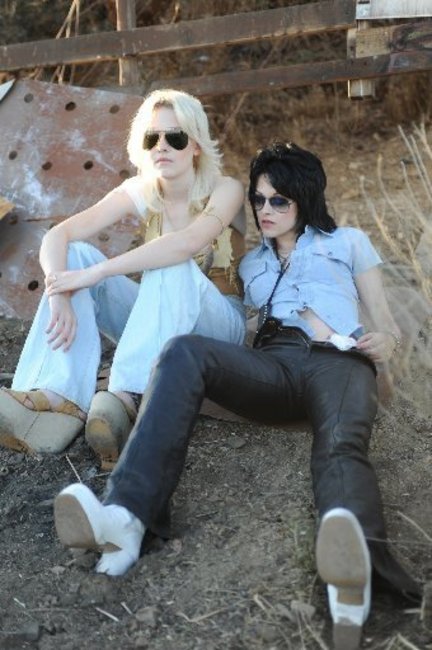 Kristen's shoes are AWESOME.
Actually, can I just say that about this movie?  The shoes and clothes are awesome. Production design on what seemed to be a small movie was really spectacular.
The movie covers a short period of time in the mid-70s when The Runaways formed and the success/drama they had before Cherie Currie left the band. Lots of drugs and drama – sort of a distraction from the fact that the characters don't seem to get all that much development.  We learn more about Cherie Currie's life than the others, but even that is thin.  The moments of the band rehearsing
Things I also noticed:
Dakota Fanning is hot now.  Remember when she was so little? She's done a great job of growing up in front of the world.
I want to be in a rock band now, with all girls.
There are more "hit" songs by The Runaways than I remembered.
While there were more songs, the only one that got the music video treatment was "Cherry Bomb."
[youtube aNNp5GyzlKc]
I liked this movie, the music was great and the story was good, even with the aforementioned weaknesses.  I wouldn't buy the DVD, but would definitely recommend someone watching.
The Runaways is available on DVD for $11.49 from Amazon.
{ Comments on this entry are closed }