My next product pick are the Sally Hansen Salon Effects Real Nail Polish Strips. These are a fairly new addition if you dig this to the arsenal of nail products available, but I only recently had a real try with them.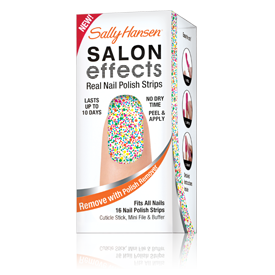 I had purchased a set of these when they first came out, and when I finally went to use them, they appeared to have dried out. I do see a warning on the Sally Hansen product page warning of strips drying out after they are opened, but I don't remember now if they had been previously opened. Either way, the actual strips are in a sealed package inside the box, so keep them in there until you are ready to apply!  Because of the dry factor, I only managed to do an accent nail last time. However, in celebration of the start of the 2013 Formula One season, I picked these up. They are called Check Please. Here are the results:
How great are these?!? They looked amazing, and they had no chips until 4 days after application – and it was a small chip on the tip of my index finger which will always chip first. My application was not at all perfect, but it wasn't nearly as hard as I anticipated, and again, the staying power is ridiculously good. You remove the strips with normal nail polish remover, and that took some work in my previously discussed Target Dip-It polish remover tub. They are seriously sticky once applied.  I got tons of compliments on the nails in person, including being slightly accosted by a diner waitress who had some impressive claws of her own.
I think I will reach for these again when I'm going into a situation where I will not want to do my nails – I'm thinking long weekends, vacations, or any time when I want to have one of the lovely designs on my hands. Check out a big selection to shop from here on Amazon. I bought this recent set at CVS for something around $13 (I went for them as I got $5 in CVS bucks in return) The prices are much lower on Amazon, but I'm sure shipping charges may come into play as well.
Have you tried the Sally Hansen Salon Effects?
{ Comments on this entry are closed }