A few weeks ago, someone gave me some old family photos that sparked my curiosity.  I started doing some research on my own and found some information about the photos.  I then joined Ancestry.com and started a basic family tree, filling in what I remembered.
I broke down and bought a paid membership to the site, and in just a few days I have worked my way back to my 9th great-grandfather, who came to the United States in 1630.  I have since found out that while the graves of he and his wife are unmarked, that they are both listed on a monument dedicated to the town's followers!
Given the great information I've received in just a short time, I have to suggest a gift membership to Ancestry.com for anyone on your list who is interested in history, particularly family history.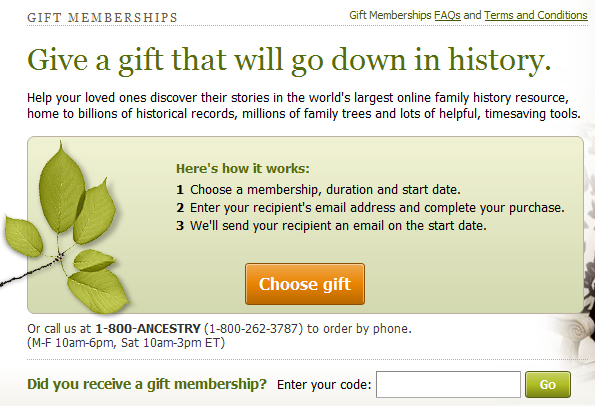 The site makes fantastic family trees – I have so many relatives that I never knew about!

There are options for US-only and Worldwide memberships.  I have started with US-only but feel like I'll be upgrading soon so that I can access records from England and track my family there as well.
US-only gift memberships are $89 for 6 months and $159 for 1 year.  Worldwide memberships are $169 for 6 months and $299 for 1 year.
{ Comments on this entry are closed }