Click here to see all of the previous Polish Project posts.
80. OPI Gone Gonzo
81. OPI Fresh Frog of Bel Air
82. OPI Black Shatter
83. China Glaze Crackle Glaze
OPI Gone Gonzo and OPI Fresh Frog of Bel Air.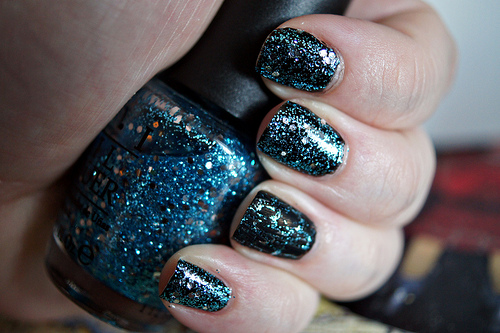 Thoughts: These OPI glitters from the Muppets collection are the same formula and glitter bits. Small colored glitter interspersed with big pieces of silver glitter. I LOVE THEM. Putting them over black had the same issue where I didn't cover all of the black, but it did not bother me nearly as much during this process. I think applying them and trying to achieve full coverage would be ridiculous.
Verdict: I can't even imagine parting with these, they are great.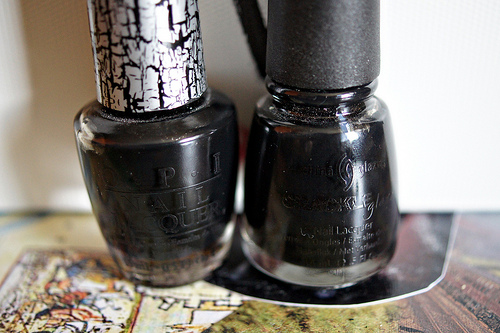 Thoughts: Here we have the side-by-side testing on the black crackle polishes. It seems like so long ago that I was hunting like crazy for Black Shatter, but now I sort of don't care at all. Even though, the Black Shatter looks pretty good over glitter polishes. I don't remember when I bought the China Glaze crackle either. Their formulas felt similar, but the OPI brush was way better. This might be the reason that the OPI nail looked SO MUCH BETTER than the China Glaze nail.
Verdict: Share or trash on the China Glaze. I don't know if anyone else wants a shot with it. The Black Shatter will hang around, even though I don't feel inclined to use it very much.
{ Comments on this entry are closed }