Here are all of the other Instagram Roundups!
This is a picture of my laptop screen. I was watching Cosmos with Carl Sagan and could not stop enjoying his AMAZING fashion.
We decided not to move this year so naturally a bigger storage unit was in order, to free up space in our current apartment for easier living. I want to have a photo shoot in our storage facility so badly, because it is really gorgeous. The wood floors, the amazing light (during the day – not the unfortunate fluorescents), I love it.
Working for Noritake means occasionally doing some photography on the fly.
…and sometimes that photography requires creative lighting fixes. Since we have fluorescent lights in the office, I taped one end of a section of bubble wrap to a computer monitor, and attached the other end to my head to diffuse the harsh reflection of the big square light panel overhead. I put the bubble wrap over my hair and put my sunglasses on top. It worked like a charm.
I went to Vans to buy sneakers, and obviously ended up with these Hello Kitty versions.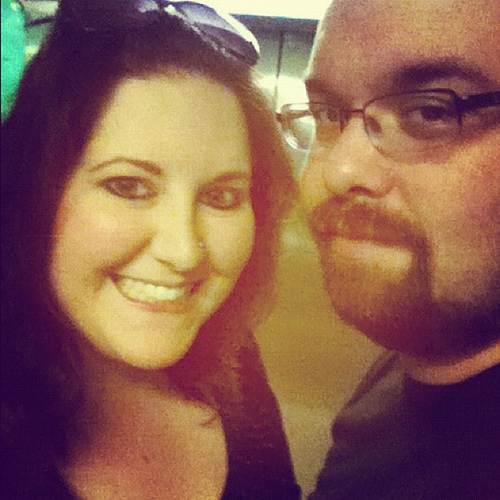 We have been in and out of said storage unit quite a bit lately. Here we are in the elevator over the weekend.
{ Comments on this entry are closed }