Here are all of the other Instagram Roundups!
I bought this ridiculously warm hoodie with a scarf attached from ideeli a while back. It really does the trick.
I followed behind my husband in the rental car while they took my injured car to the shop. I realized on the way that bumper replacement meant that these stickers would be out of my life. My car belonged to my grandmother before she sold it to me and there was NO way I was taking her stickers off of the back. I was really sad about it, and posted a photo to Instagram (which means Facebook too). My Uncle John called my grandmother to tell her that he saw my picture and would buy me a new GB sticker for the car. I love it.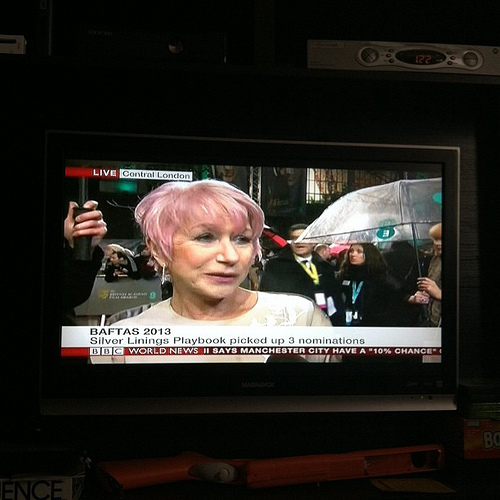 I caught the BAFTAs red carpet and saw Queen Badass Helen Mirren with pink hair! I am seriously obsessed with her. She is insanely hot and now she has pink hair which is just really cool.
I totally slipped and fell in our complex's parking lot after the big snowstorm and resulting ice. Luckily I was only bleeding from this one spot.
This is a little view of my new desk at home. I was floating around for a while between the bedroom and the couch with my laptop and it really sucked. Now I have this little desk and it is even better when I can set up my podcast stuff without it being super precarious. Adding the pop screen made a huge difference.
I certainly hope so. It's been a little crazy these past few weeks.
The best end to the Instagram week was getting a box of hand-decorated macarons from Creme Delicious. They are gorgeous and crazy delicious!
{ Comments on this entry are closed }