I was introduced to Wrought Iron Haven a few years ago when I was searching for a basic coat rack for the wall in my new apartment. I was annoyed with how much Pottery Barn wanted, and eventually found a perfect option from Wrought Iron Haven.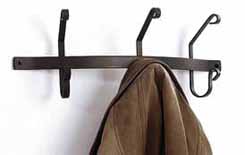 It's just what I wanted! Black, basic, holds coats. This coat rack is available from Wrought Iron Haven for $39.95.
I got an email from WIH today about holiday specials, so I decided to shop around some more.  There are lots of things available that I love, and some that are random.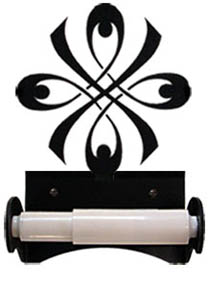 Bathroom decor realness. The Wrought Iron Ribbon Tissue Holder is available for $19.95.
You knew I'd find the deer items. This Wrought Iron Deer Key Rack, which I would totally use to hang necklaces, is available for $15.95.
I have a frog keychain that my parents gave me YEARS ago. I think that a cool keychain is something you might actually have for a lifetime.  Based on how solid and amazing my coat rack is, I have a feeling that this maple leaf keychain has some heft and would be a great gift for someone. The Wrought Iron Maple Leaf key ring is available for $5.95.
This is supposed to be a cat. Doesn't it look like a primate though? The Wrought Iron Cat outlet cover is available for $10.95.
That's more like it. Totally deer-a-rific. The Wrought Iron Deer outlet cover is available for $10.95.
Then before you leave the site, you should buy this adorable squirrel magnet. The Wrought Iron Squirrel magnet is available for $6.95.
There are lots of other fun things available from Wrought Iron Haven, and I suggest you check them out, pronto. Plus, if you sign up for their mailing list, you get $10 off of your next order!
{ Comments on this entry are closed }