89. Conan O'Brien Can't Stop (Available to stream on Netflix, available to rent digitally from Amazon)
Here is the trailer for Conan O'Brien Can't Stop.
[youtube dRdpC1jtZE0]
Conan O'Brien Can't Stop is a documentary that gives a behind-the-scenes look at the aftermath of Conan's shortened Tonight Show run and following nationwide tour.  As someone who has never been a huge Conan person (although I was completely Team Coco while he was getting screwed by NBC), this was an interesting look at the man tied to all of the drama.
So, the beginning of the film gives us a short recap of the drama with NBC that led to Conan O'Brien walking away with $45 million, which we know now turned into a deal for him to do a show on TBS.  Soon after the end of his Tonight Show run, the tour was conceived and rehearsals began.  We are exposed to Andy Richter, Conan's new backup singers/dancers, and his long-suffering (but hopefully well-paid) assistant, Sona.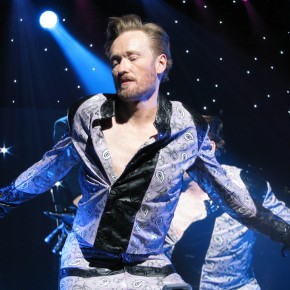 So, Conan is really funny, but at times, incredibly exasperating.  He sells out most of the tour within minutes, and the audiences clearly love him.  He seems to be too annoyed about meeting fans and doing meet-and-greets.  Cut to Conan saying how he will never say no to someone but while he is saying it, it seems that he is relaying that he HATES it.  It sort of ruined the movie for me.  I'm sure the intent was not to make people think that Conan is a big d-bag, but it sort of made the rest of the movie hard to watch. I'm sure hardcore Conan fans will be all over this though.
Conan O'Brien Can't Stop is available on DVD from Amazon for $16.99.
{ Comments on this entry are closed }