New travel post! A few weekends ago, my husband Will and I took Friday off and made out way north to Connecticut for the weekend. Our official reason for the visit was a gift I had purchased for Will at Christmas involving a steam engine, but we will talk more about that later.
We woke up on Friday morning a bit later than we would for a work day, packed up the rest of our electronics (seriously, we are so wired, ALL THE TIME) and got in the car. After a stop at McDonald's for road breakfast, we made our way to I-95.
A while later, we arrived in Milford, CT. I have been deep into some Sanford family history for quite a while ago (as posted earlier, I'm a witch!) and my 9th great-grandfather and his wife are listed as town founders in Milford. Our first stop was to see the memorial bridge in Milford where they have stones naming the town founders. Unfortunately, the name is misspelled, but you can see my grandfather and grandmother, Thomas and Sarah.
Cool, right? This Instagram shot is the only one I have of this awesome stone because naturally, I had managed to leave my 8GB SD card in my laptop, which was totally at home.  Luckily, Will had seen a billboard for a camera store. In the exact small town we were hanging out in.  After a quick check to see that the public library would open in a few hours, we made our way to Milford Photo. It is actually a really nice change to go into a specialty store, since 99.9% of our camera stuff is purchased online.
Our next stop was the Milford Cemetery, since from more research on Ancestry.com and other sites, I knew that a number of my Sanford family members were buried. We found a helpful groundskeeper (which totally sounds like the beginning of a bad horror movie) and found the oldest section of the cemetery. A helpful plot map later, and we started checking out the Sanfords. One of the oldest stones in the cemetery was that of Andrew Sanford, who I mistakenly thought was my uncle who had been accused of witchcraft. I figured out when I got home that this Andrew was actually the SON of the accused witch Andrew, and so this stone below is that of my 1st cousin, 10 times removed.
We left in the middle of the Sanford search to go back to the library as it was finally going to be open. My thoughts were that perhaps the Milford history books in the library would give me some information that might be helpful when going back to the cemetery. We didn't really find anything that changed that experience, but we did manage to take some photos and get other information on my town founder grandparents. Including some location data for their plot of land. Will also read that during church services, someone would sit outside with a gun to ward off any threats by Native Americans. That's insane!
So we left the library and went back to the cemetery, and searched out my remaining relatives. We found a stone for Hannah Sanford, who appears to be my 7th or 8th great-grandmother, but more research needs to be done on that situation.  It was very quiet and pretty there in the cemetery (more pictures to come) and I felt really lucky that I was able to drive to a place not too far from where I live and visit these people from my family.
I plugged a mystery location into Ted, our trusty GPS, and headed to what Will didn't know was the PEZ visitor center! We realized that Cracker Barrel was nearby and so stopped there and had breakfast for lunch. We are unable to take a road trip without a stop at Cracker Barrel to have breakfast and buy some Jelly Bellies.
So we went to the PEZ visitor center, and it was a bit underwhelming. If you have been to the awesome Hershey visitor center in Hershey, PA, your expectations will be too high. PEZ does not have a ride to tell you about the making of PEZ.
I did get to see some ultra-rare PEZ dispensers though, like this pair of William & Kate.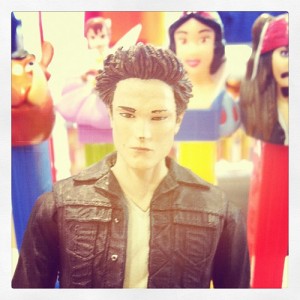 Tiny Edward fit right in with the PEZ. No surprise there.  After purchasing some PEZ (obviously), we headed toward Ivoryton, CT.  I had booked us into the Copper Beech Inn, as it was the closest bed & breakfast that I could find near the Essex Steam Train, our destination for Saturday. We arrived and checked in, eventually figuring out what building our room was in. We went out to find a drugstore before coming back to the Inn for our dinner reservation. I had booked some sort of spring special that was around $500 for 2 nights + a 7-course tasting dinner in the restaurant on the property, Brasserie Pip.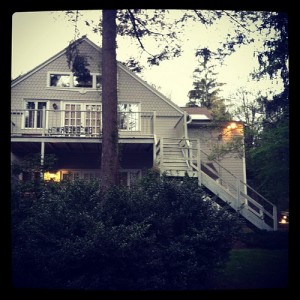 Our room was in the carriage house, and from the inside, you can definitely tell that the horses and carriages were previously housed here. Our room (which I didn't photograph) was alright, but we were fighting off a wasp within 3 minutes of being in the room, and we were both very hot, with an air conditioner that left MUCH to be desired. We were not there very long before we were heading out to dinner.
…and what a dinner it was. Based on the website for this restaurant, your expectations would probably be high, which mine definitely were.  We were awkwardly seated despite having a reservation, and confused our server when we told her that we had a tasting menu that had been purchased with a package. (The B&B had given me nothing upon arrival to confirm this.) I then proceeded to order a glass of wine, which took about 20 minutes to arrive – although the wine was delicious. After we ordered the tasting menu, our server asked us if there was anything we didn't enjoy. Will informed her that neither of us are into mussels or clams, and she went on her way. First up was a piece of raw harami, marinated in something delicious.  I do not really do raw fish, but I ate a piece (which gave Will a thrill) and passed on the rest.  The marinade was great but the fish was fishy, and I wasn't feeling it.  Course 2 was adorable, it was some asparagus soup (shown above, upper left) with a mini croque monsieur in the center, providing some fantastic saltiness. I love asparagus so this was a winning course for me.
The next course was a bouillabaisse. Remember the part where we said we didn't like mussels or clams? Bouillabaisse is FULL OF THAT ISH.  Our server came back and asked why we weren't enjoying it. We reminded her, and she whisked away the bouillabaisse and promised another course. Which I believe was pork loin wrapped in sausage. The sausage was a bit spicy, but overall, the course wasn't bad.
The next course was my favorite one. It was a chicken thigh with some pickled beets and absinthe foam (shown above, upper right). I mostly think any dish with foam is BS, but I have to give it up for this, because the anise flavor in the foam was SUPER delicious with the chicken thigh. My night would have been improved if this was my main course for the evening.
Next up, course 6 if you count the bouillabaisse, was a duo of beef. Short ribs and a piece of filet (shown above, lower left). Totally not impressive, although we had shallot onion rings on top which were lovely. But if you're having steak and the highlight is the onion rings, it is not a good sign.
So we moved on to dessert. We obtained coffee and were presented with the first dessert, which was "aerated frozen yogurt." Clearly this is one of those chefs that LOVES himself and can't get enough of his brilliant ideas. I was not impressed with the odd presentation either, if you are going for deconstructed something, I think things should be more spread out. So strange, and not that delicious.
Then we had our final course, which I'm calling "murder of red velvet cake."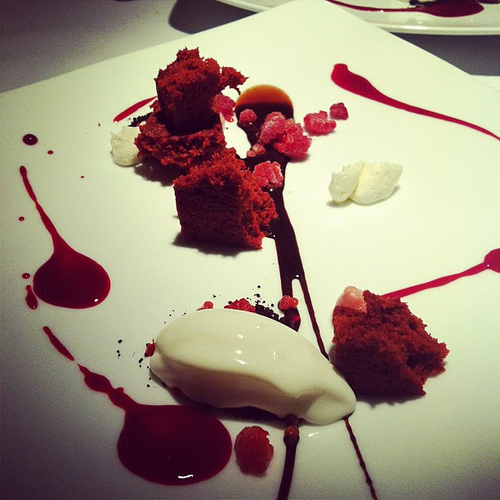 Again, if the cake was better, it wouldn't need to be assaulted and spread out on the plate before being served. Pairing with the sauces was a good idea because the cake was not particularly moist, but I'm sure you get the idea in general.
Just not an impressive experience, at all. The tasting menu normally costs something like $70/person, and while I paid less with my package, it was still disappointing. I would not recommend this restaurant at all.
We headed back to our room, which was still hot, and tried to go to sleep to prepare for Saturday's early start. The broken cable in the room meant no TV, but luckily, Will was able to stream a Bones episode on his Nook Color. Good times.
Part 2 coming soon – we are traveling some more so things will stay slow for a bit!
{ Comments on this entry are closed }