(Part 2 of 2)
Thursday (9-23) was another early morning, as we got up to head to Florida's east coast. We got into the yellow muscle car and made our first stop at Cracker Barrel, a road trip staple. After some hashbrown casserole, fried apples, bacon, coffee, more shopping, etc, we got back in the car and headed to Kennedy Space Center.
Having not been there for probably 20 years, I didn't remember anything about KSC. Will was really excited to go since he loves things of this nature. We arrived and booked ourselves into the more in-depth of the tour options, which takes you closer to the shuttle launch pad. Afterwards, we walked around the Exploration Space exhibit, which was really enjoyable and interesting. We then went to get in line for the bus tour and then spent the next 2 hours driving around the KSC complex, seeing all of the administration buildings, the vehicle assembly building, and the shuttle launch pad where the Space Shuttle Discovery will launch from on November 1 – the next-to-last shuttle launch before the program is shut down. We got great views of the launch pad and the VAB and were then dropped off at the Apollo/Saturn-V Center. You get to experience a launch from inside the control room, which was great, and then you walk into a giant space with a Saturn V Rocket staring you in the face.  Also in that building are a moon rock that you can touch, the Apollo Treasures Gallery, an astronaut transport vehicle, and more.  We walked around for a bit, had a late lunch, did some shopping and then took the bus back to the main KSC area.
We went on the Shuttle Launch Experience ride, which was way cooler than I expected. It's a simulator of the first 2 minutes or so of a shuttle launch, complete with g-forces and whatnot. It was great.  We flew out of there and then were very close to closing time.  We crossed over to the Rocket Garden, a very cool area of the complex.  I didn't stay as long as Will, I went back to check out the gift shop situation while he was taking more pictures. He eventually found me and we headed back to Orlando.
Some photos from our trip to KSC. Click on the image to visit the full set on Flickr.
We used Ted (my trusty GPS) to locate a Publix before we went back to the hotel. Side note:Â  If I am in Florida, I try to eat the following 3 things that I do not get here in New Jersey:
I worked for Publix in high school and I really don't know many people that don't react the same way I do when "Publix subs" are mentioned.  I can get amazing and authentic subs here in New Jersey, but there is something about the Publix bread etc that just makes for a delicious sub.  We have a Chick-Fil-A that isn't too far from my house, but it is in the mall and therefore doesn't really count.  Steak 'n Shake came into my life in college, and since I started taking Will there, we both love getting a burger and a shake. I really enjoy it because we have fun going to our standard eating locations while we are on trips together. It really is about the little things.
Friday was set for Harry Potter time! We met up with my sister and nephews at Universal Islands of Adventure.  We immediately went on the Hulk roller coaster, which was amazing – love the 0 to 60 in 3 seconds burst at the beginning. After that, we walked around and skipped Dr. Seuss Land and The Lost Continent to head straight to The Wizarding World of Harry Potter.
Anyone who enjoys the Potter-verse at all should make a trip to see this.  It is like walking into the movies, which I absolutely love. There are shops from the books/movies and butterbeer and I got a wand at Ollivander's and Harry Potter and The Forbidden Journey is one of the greatest rides I've ever been on, it was so well done and we were all about going on more than once.  The only downside is that it was crazy hot, but that ended up being sort of remedied later in the day.  After spending the biggest portion of the day in the world of HP, and having a fantastic lunch at The Three Broomsticks, we moved on to go on the Jurassic Park ride.  I skipped round 1, leaving it to Will and my older nephew Phil to do that while I sat with my sister and watched my younger nephew Steven climb a rock wall.  They came back and Will said that he wanted to go again and that it was fun so I should go too.  Naturally, as soon as we were stuck underneath a big black safety bar, the rain started.  A lot.  We were soaked by the time the ride got to the exciting part that was indoors.  The rest of the day was spent working our way through the rest of the park, riding the Spider Man ride (which we all enjoyed together) and all having fun in the arcade on Superhero Island.  We parted ways and headed back to the crazy sexy yellow sportscar to drive the 2 hours back to my parents' house.
Photos from Islands of Adventure. Click the image for the whole set of photos on Flickr.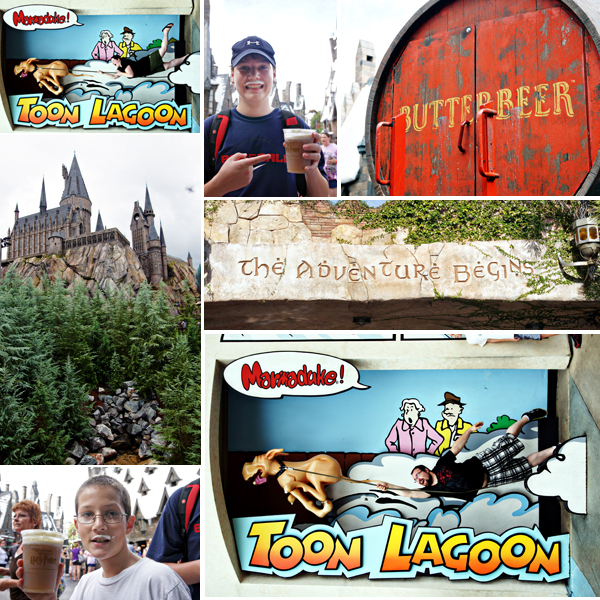 So after some heinous traffic (and some more Steak 'n Shake on the road), we made it back to Mom and Dad's house.  My brother and his girlfriend was there, and soon enough, we got into some dramatic competition while playing Sequence.  This competition continued all weekend with the girls eventually emerging victorious.
The rest of the weekend was a bit calmer.  On Saturday, we slept in, and then I went out with my mom to get manicures and pedicures.  I picked my current favorite nail polish for both my hands and feet, Catch Me In Your Net by OPI.  We had a great time together and my nails looked great.  This was all in preparation for a dinner that was 10 years in the making. No, seriously. I have been telling my husband about Bern's Steakhouse in Tampa for the 10 years that we've been together, and we finally managed to schedule a reservation while we were in town.  Sorry vegetarians, but this is the best steak I've ever had. The whole meal is an experience though, the meal is incredibly drawn out, it's fabulous.  After finishing the meal, you take a tour of the kitchen and the wine cellar (which contains the largest private collection of wine the world), and then you head upstairs to the Harry Waugh Dessert Room.  During this particular visit, Mom and Dad had coffee while Will and I ordered Bananas Foster for 2, Will had an armagnac and I had a glass of sauternes that was older than me. It was great.
Sunday was our last full day in Florida, and we spent it with family, watching my nephew's confirmation, and then ending up back at my parents' house, playing more Sequence. We flew back the next day, which brings me to the end of this massive recap.
Next week, the real link party returns.
{ Comments on this entry are closed }