Click here for all posts in the Brand Experience Project.
Click here for part 1 of my experience with Bluemercury from January 23, 2014.
As I always do, I tweeted the last blog post after it went live in January – alerting Bluemercury to the major flaw in their free shipping countdown. I received a few tweets back: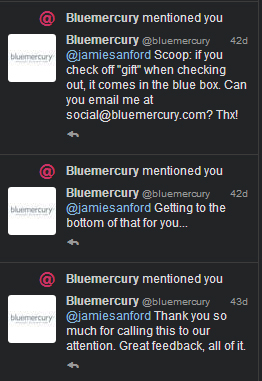 It's always lovely to receive feedback of this nature. I sent a follow-up email, as requested.
Barbara from Bluemercury got back to me with a response that wasn't too specifically tied to my suggestions, but indicated I would get a blue box sent my way.
I was tagged on Instagram when the box was packed and on the way. I loved this way of letting me know that a box was on the way.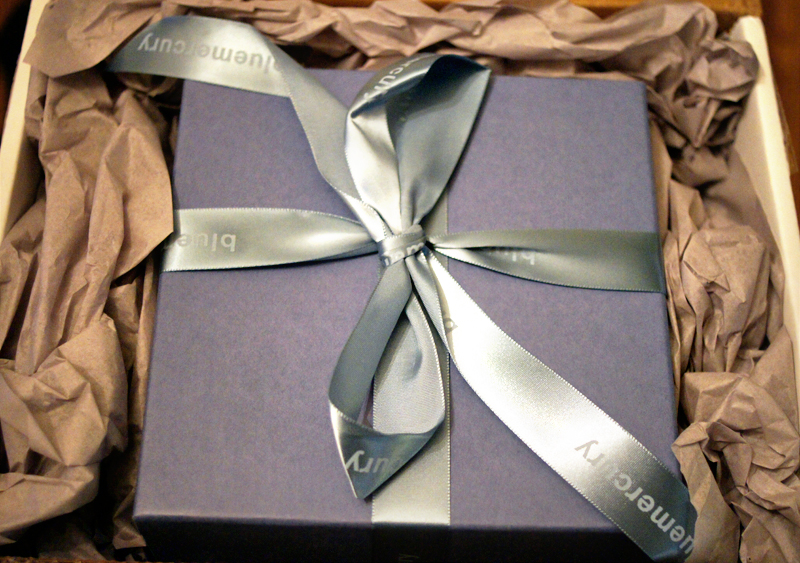 The box arrived a few days later, and was I not right about how great this packaging is?
Matching tissue paper.
It was filled with samples, which was lovely.
So, a big thanks to Bluemercury for sending the box. Of course, I had to go back and check to see if any of the issues I had brought up on their site had been addressed. I assumed that the shipping calculator issue would have been the first thing to fix, since it was obviously broken.
Surprisingly, as of March 12, the shipping calculator in the header is still broken.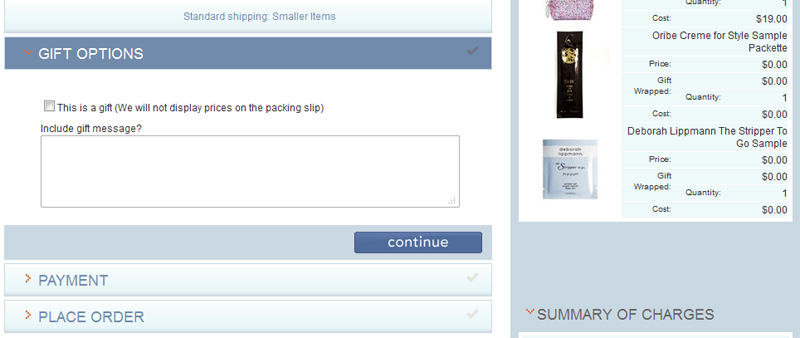 My suggestion to add something here letting the user know that the item will be gift-wrapped for free (with perhaps an indication of what the lovely packaging looks like) has not been taken either. Even if a photo wasn't being added, an indication that the item will be wrapped would be nice here.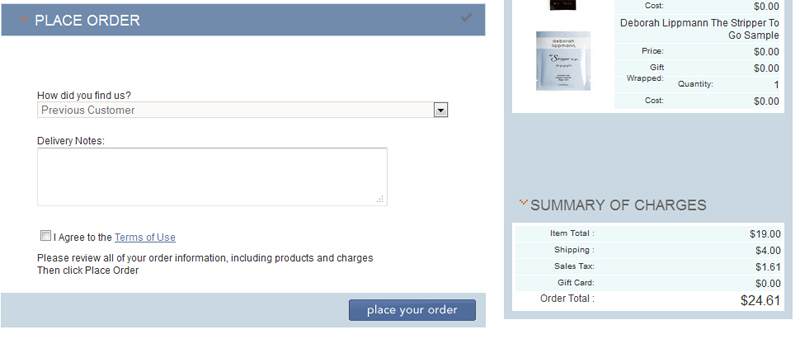 The grammar and punctuation review hasn't been completed either. Still hanging sentences and inconsistencies between language and buttons.
In the past year and a half, I have managed the re-launch of an e-commerce website with 3,000 SKUs. I know the struggle of making these things work, there's always a quirk to deal with. However, the fact that the broken shipping calculator hasn't been fixed is ridiculous. The other things I've brought up are more style suggestions than anything else, but the shipping issue is a basic function that is broken, and should be addressed immediately as it is incredibly confusing to customers.
I will follow-up again to see if these issues are addressed on Bluemercury.com.
———————————–
If you're a brand who would like to be included in the brand experience project, please send me an email.
Save
{ Comments on this entry are closed }