83. Bill Cunningham New York (available to stream on Netflix and Amazon)
Here is the trailer for Bill Cunningham New York.
[youtube NYqiLJBXbss]
Bill Cunningham New York documents the life of famed street style photographer Bill Cunningham.  While the world is currently swarmed with photographers documenting street style, Bill Cunningham was one of the pioneers that essentially created the idea of shooting regular people wearing clothes, be it designer goods or things you can buy almost anywhere.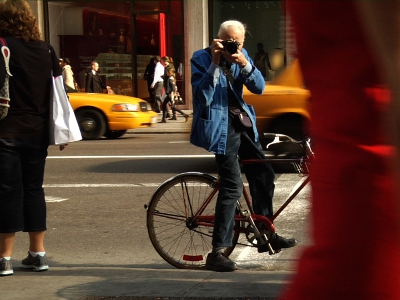 Bill tours around New York City, on a bicycle with a camera around his neck (shooting film in this day of digital), wearing his trademark blue coat.
I really loved this film, but at the same time, it left me with a bittersweet feeling at the end.  Bill started our a career in fashion as a fabulous milliner, creating hats under his label William J.  He lost his financing while serving his country after being drafted, and ended up being given a camera which started this career shooting style on the street. He ended up with columns in the New York Times, which is his best known work.
The part of the movie that delves more into the private life of Bill Cunningham was the bittersweet part of the film for me.  (Although I think that perhaps my ideas of how I would live my life and what Bill thinks are very different.)  In a tiny studio/apartment in Carnegie Hall, Bill's home life is a giant archive of all of this previous work.  It is made clear through the film that he is absolutely in a relationship with his work, and that he lacks in deep contact with other humans.  Other friends in the building, people he works with, his subjects, they all know him without knowing him.
I recommend seeing the film, Bill is an interesting and funny character, and is unique in a world seemingly full of style photographers.
Bill Cunningham New York is available on DVD from Amazon for $19.99.
{ Comments on this entry are closed }