Vera Wang Does Not So Basic Black Wedding Gowns
I would have worn a black wedding dress 5 years ago when I got married, if I had been able to get away with it – ie, if Vera Wang black wedding gowns had been on the market as an example. However, black wedding dresses were not all the rage, so I ended up with a white dress with a big black sash. I chose black and white as the wedding colors, and encouraged everyone else to wear black, since I wasn't able to.
I will be wearing black for our upcoming vow renewal, even though that plan turned into a hot mess. (More on that soon.)
Anyway, I was surprised/disappointed/left calling out "FINALLY" when I saw that Vera Wang presented a number of dark and black gowns during her Spring 2012 bridal show. (Photos via Brides.com)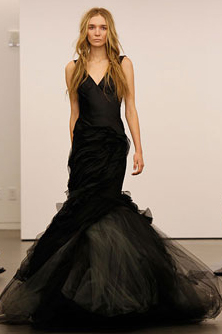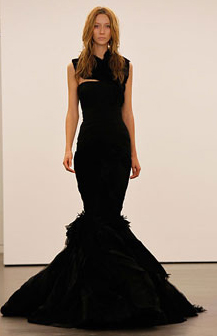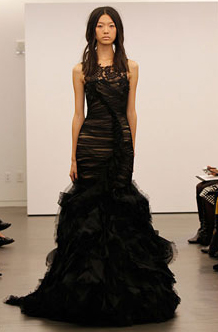 It's about time, Vera. You've been teasing us with hints of black on dresses for years, but now you've taken the plunge. I hope this trend continues and I hope that brides who are like me will take this as an excuse to wear the black dress they want to wear for their wedding, regardless of it being a "wedding dress" or not.
Would you wear a black wedding gown? Talk about it in the comments.
{ Comments on this entry are closed }