Click here for all posts in the Brand Experience Project.
I'm writing this as a product review as well as a Brand Experience Project post, since eShakti makes each item as it is ordered, so it definitely qualifies. If you are not familiar, eShakti offers women's clothing in sizes 0-36, but you can also have your item created to match your specific measurements and height. For the prices, this cannot be beat.
If you'd like more information on how it works, click here to see the breakdown. They even accept returns on custom items if they don't work for you!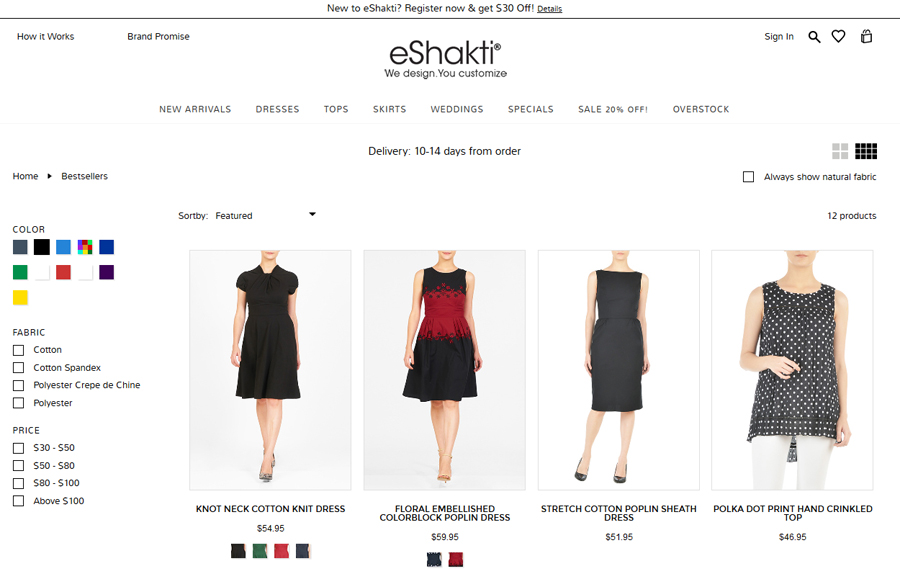 The website is straightforward and easy to use. I went to the dress category right away, and then clicked black as my color, because I am Jamie Sanford, and this is what I do.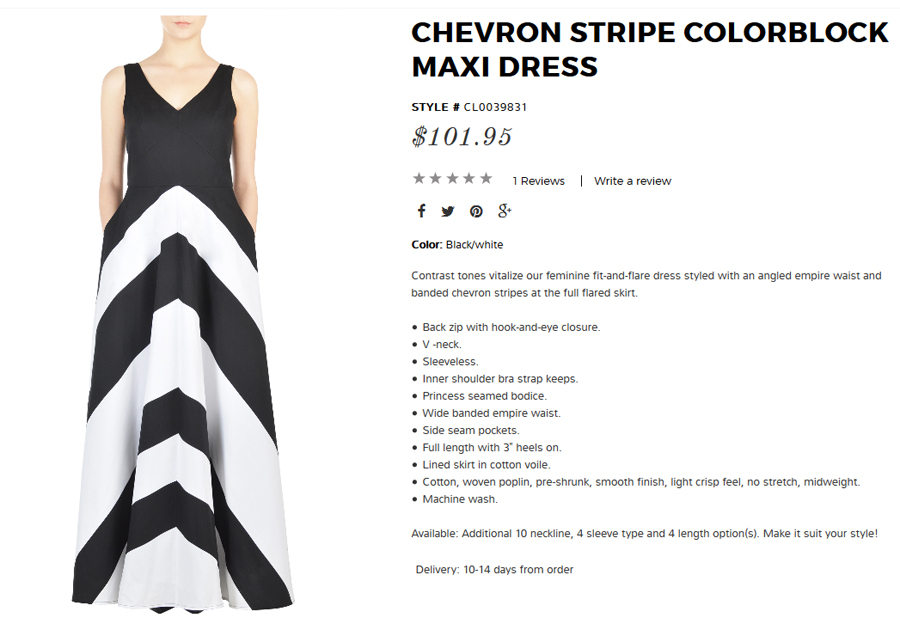 Shockingly, the dress I was totally into was black AND white! Not too much of a stretch, but since I would normally just wear all black, this is a step.
I had heard that we might be chilly at the location of the wedding we were attending, so I decided to have sleeves ADDED to this dress, an option when you order from eShakti! This dress had 10 neckline options and 4 sleeve options. I kept the wide V neckline but added the longest sleeve option, to the elbow. I knew I didn't want to carry a pashmina around to put around bare arms, and so the sleeves solved that issue.
Ordering and checkout were fine. I had William help with some measurements, but instead of entering custom sizes for myself, I looked at my measurements and chose the appropriate size from their size guide. I also entered my height during checkout.
It took a few weeks, but my item finally arrived!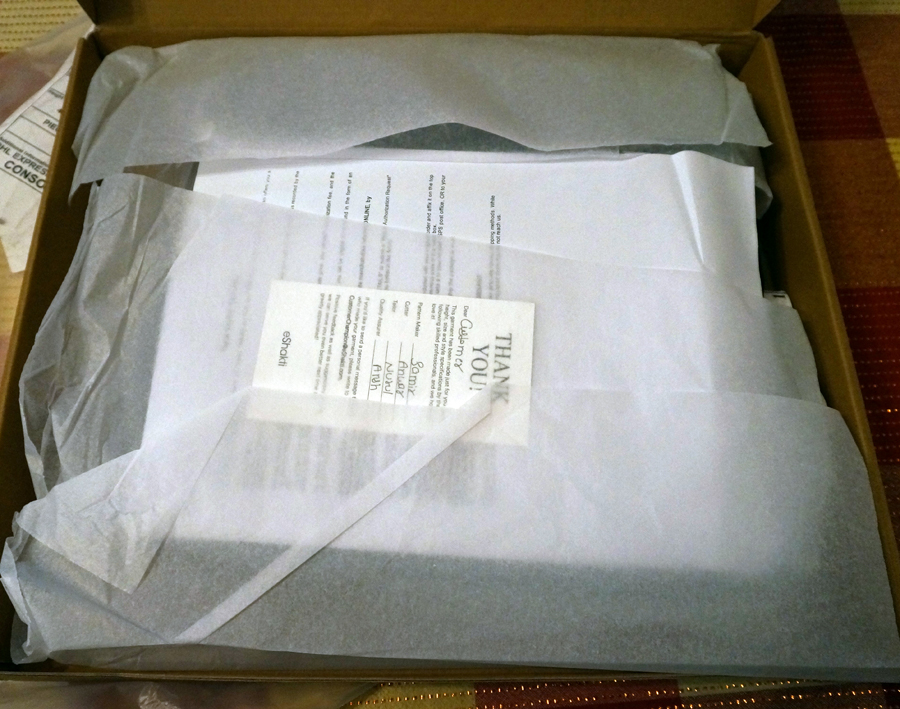 The large box came via DHL. I was impressed at how large the box was, it made for really nice presentation, especially for a full-length dress.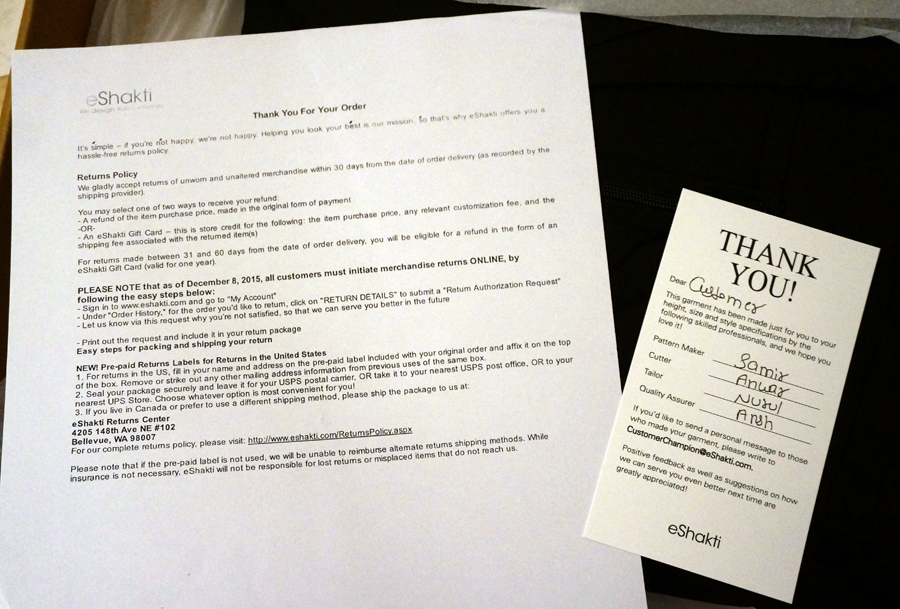 Great messaging here about returns, and a thank you note featuring the names of the people who made my dress! I love this. I also will be sending an email to their email address that is specifically for messaging their garment makers. It's a really lovely touch.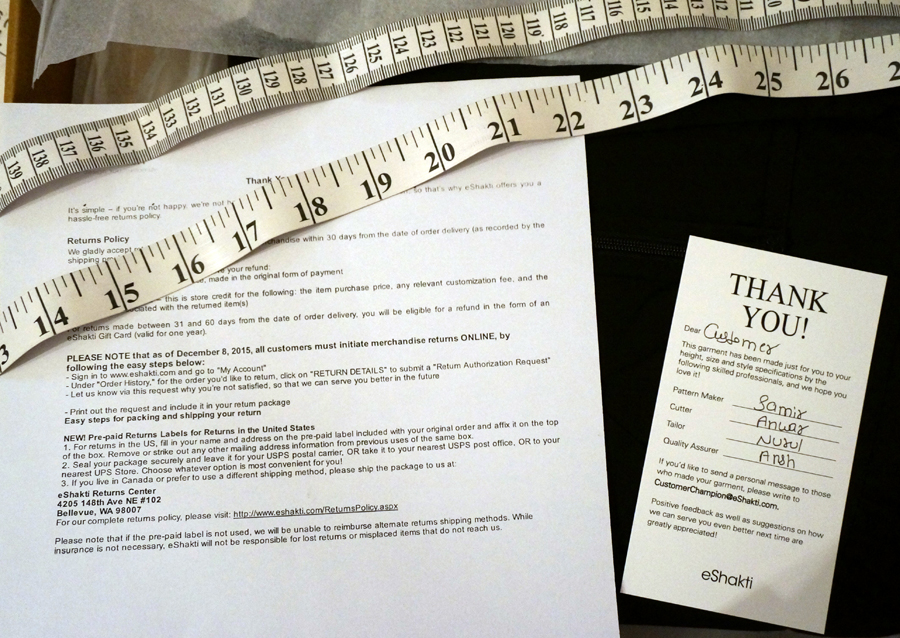 This is simple but I think particularly brilliant – a soft measuring tape for taking your measurements for the next time you order! Lovely.
Anyway, let's get to the real question – how is the dress?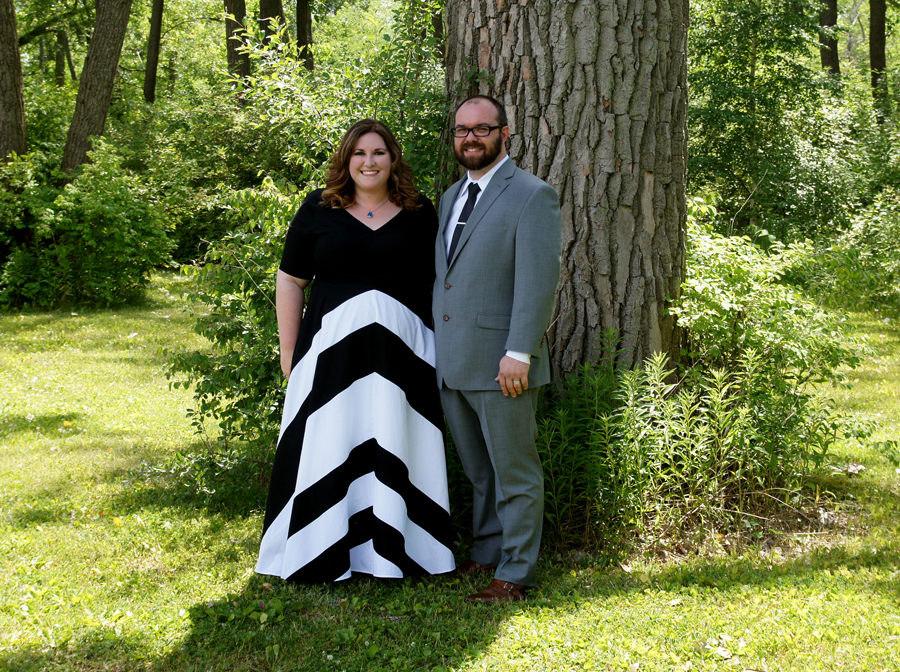 It was perfect! The fit was wonderful, and the length was seriously perfect. I don't always feel the most comfortable in dresses but this was amazing. I actually received compliments while walking through the Toronto Harbourfront on our way to the wedding ferry, and it's been years since I can remember a compliment from a stranger. (Nice ones, not creepy ones.) My Facebook was also aflurry with discussion of this dress, where I got it, and how much everyone liked it. I definitely picked a winner.
The only downside to this dress is that it took quite a while to iron it.
I cannot recommend enough that you try out eShakti.com. The entire experience was simple and lovely, and the message from the company (seriously, check out this whole page about their practices) makes me happy to shop with them.
Save
Save
Save
{ Comments on this entry are closed }