This is part 2 in a series of posts where I search the Neiman Marcus website for potential shoes to wear for my Vegas wedding (actually a vow renewal), coming up later this year.  Click here to see part 1.
Christian Louboutin Maralena Flame Sandal, $2445. These are so the perfect shoes to wear in Las Vegas, they are showgirls in themselves.  However, they are crazy expensive.  Yes, I have a $300 gift card to Neiman Marcus, but I'm pretty certain that I don't need to spend more than an additional $300 beyond my gift card.  However, this is fantasy shopping, so I will continue.
Christian Louboutin Suede Glitter Platform Sandal, $895. These glitterbomb shoes look a bit weird without a foot in them.  I think they would appear less clunky when they are actually being worn.  The issue with these is that I'm pretty sure I would tower over my husband who is not that much taller than me.  I love them though, the glitter + pink suede is fabulous.
Miu Miu Suede Peep-Toe Mary Jane Pump, $670. These are also tall but the fact that they are more normal-ish makes me think that I would not be TOO tall in them.  Plus, they are so cute and the heel is bigger which means there is less of a chance that I will fall.  I also think that these would go really well with the sort of 60s-ish style idea that I have in my head.  I would definitely be able to wear these after the fact.  They are not as crazy as some of the other shoes, but they are really gorgeous.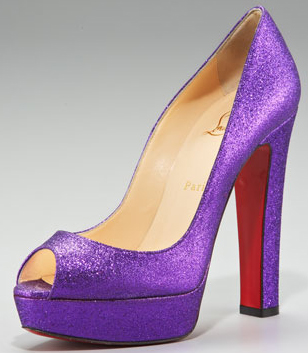 Christian Louboutin Glittered Thick Heel Platform Pump, $795. These might be the winner, even though they are totally going beyond the $300 I might have been willing to spend.  I would have to pay $495 + gift card to obtain these purple beauties.  They are tall, but again, the heel isn't super skinny so that will help.  In addition, they are sparkly and gorgeous but not in a crazy way that will make me unlikely to wear them again.
Opinions are welcome in the comments!
{ Comments on this entry are closed }