Click here to see all of the previous Polish Project posts.
94. OPI My Pointe Exactly
95. OPI Metallic 4 Life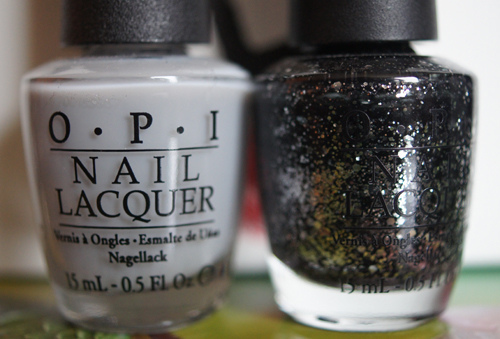 My first plan was to paint my nails with My Pointe Exactly and maybe an accent nail with Metallic for Life. However…
This is what it looked like after 3 coats. I think I'm just not a sheer polish type of girl. You can see where I went with the Metallic 4 Life accent, and then decided to go all out.
Metallic 4 Life is a mashup of different sizes of silver glitter in a black base. I had trouble with it before but it worked really well over another polish. Bottom coats of something other than just basecoat are the way to go for me.
Thoughts: My Pointe Exactly is good for someone, but I am not into these jelly/sheer polishes. Metallic 4 Life isn't super easy to apply but the end result is really fun.
Verdict: My Pointe Exactly goes into the share, I'm keeping Metallic 4 Life.
{ Comments on this entry are closed }