I was exposed to a great gift magazine recently while at tabletop market in October.  I love picking up magazines and introducing myself to new brands and designers, and I saw a feature including a lamp from Jill Rosenwald.  I just checked out Jill's site and want to share a few lamps from her collection.  Fair warning, these are some PRICY lamps.
You all know how I feel about things that are black and white…but that is apparently navy blue.  Oh well, still fabulous. The shade is included which is a bonus.  The Jill Rosenwald Chevron Oval lamp is available if 3 colors for $395.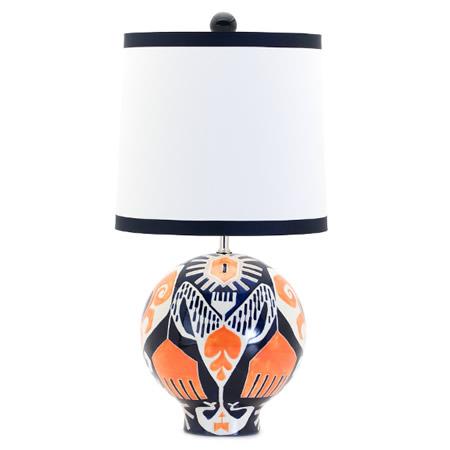 This looks like a classier, pissed off version of Toad from Super Mario Brothers. Go on, try to deny it.  The Jill Rosenwald Ikat Ball Lamp is available in 4 colors for $695.
This one is also tricking me because it too is navy.  I need black and white to be happening.  However, the shape is super fabulous.  The Jill Rosenwald Newport Teardrop Lamp (in 2 colors) is available for $650.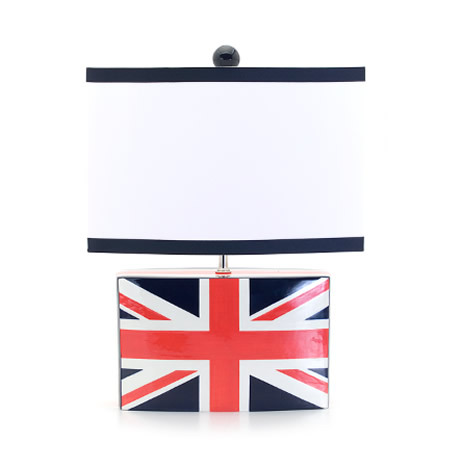 This is the lamp that got me excited to find Jill's website.  As previously covered, I'm a bit of an anglophile, so it is no surprise that I am drawn to the Union Jack.  I want this lamp! The Jill Rosenwald Jack Brick Lamp is available (in 2 colors) for $530.
So there are my picks for some lamps.  It's a random choice, but since I was so drawn to the Union Jack lamp, so there you have it.  You can check out the entire Jill Rosenwald collection here!
{ Comments on this entry are closed }