Click here for all Formula One-related posts on JamieSanford.com.
Check out the Formula One wiki for more information.
Photos are from Planet F1 unless otherwise noted.
Holy crap, this was probably the best Formula One race I've ever seen. It's definitely in the top 3 races I've watched in my short few years as an F1 fan. It was NUTS.
Nico Rosberg managed pole position over Lewis Hamilton. Daniel Ricciardo came third, but had a 10-place grid spot penalty so would start 13th.
Race day arrived, and Jenson Button was celebrating his 250th race! He's the most experienced driver currently racing. I couldn't help but think of how it was probably a bit sad for Jenson given the sudden passing of his father back in January.
Luca di Montezemolo of Ferrari made this face after a meeting with Bernie Ecclestone. He would later be making much sadder faces during the race, while watching Ferrari cars get outperformed in a big way.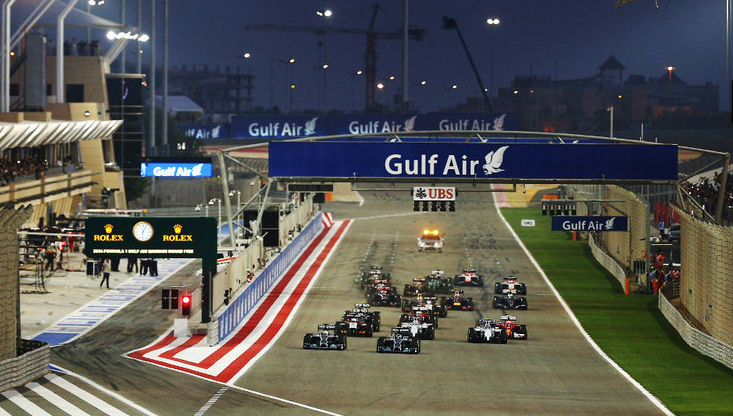 The race was dramatic from the start, with Lewis Hamilton quickly managing to get in front of his teammate, Nico Rosberg. Lewis would lead almost the entire race. Meanwhile, contact somewhere in the back with Jean-Eric Vergne and Pastor Maldonado.
(source) A look at the amazing track, lit up during this night race, seems appropriate here.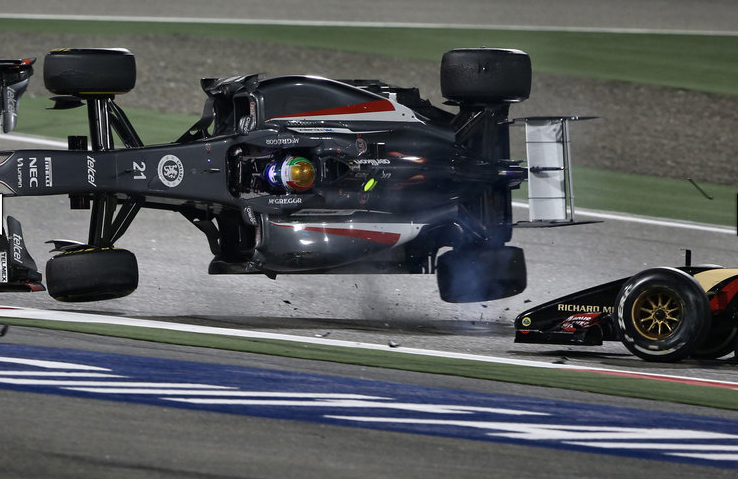 The race was clipping along with quite a few battles going on between cars, and then they cut to show us Esteban Gutiérrez's car, showing that the camera mounted on the top was missing. Then the replays started as the safety car came out.
(source) I have not seen something this scary since I started watching Formula One. The car came down on its head twice, and it was SCARY. Luckily, Gutierrez managed to get out of the car on his own. It was Pastor Maldonado who hit him, after hitting Vergne earlier in the race. Maldonado received a 10-second stop/go penalty during the race, then afterwards, received a 5-spot grid penalty for the next race and 3 points on his superlicense. Mostly everyone I follow on Twitter who watches/is involved with F1 thinks that this is absolute BS. Romain Grosjean was suspended from a race for causing a collision, and all Maldonado gets is some penalties?
Not to mention that Maldonado shouldn't even have a car anyway. He is a MENACE on the track, and the story I've constantly heard is that the sponsors that he has in the form of Venezuelan tourism is the main reason he continues to have teams that want to add him to their F1 driver lineup. However, at some point, he's going to run out of teams that are this desperate for cash.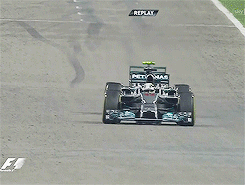 (source) There were not many laps to go after the safety car, and the rest of the race was just absolutely mental. Possibly made more fun by the fact that throughout the race, we had seen teammates fighting it out like mad, and it continued right until the end. I was Skyping with my dad and brother during this last bit, and we were all yelling at the TV together. It was great.
(source) While we know they are not BFFs, Nico and Lewis did have a cute moment of wrestling with happiness after getting out of the cars. It looked like they had a great time fighting one another.
While the Mercedes cars were dominating the race, Sergio Perez of Sahara Force India managed the third spot on the podium. He isn't my favorite, but good for him. Unfortunately, my boy Nico Hulkenberg, Sergio's teammate, was on the harder compound tire and just couldn't get the pace at the end. However, he did score good points, and Hulkenberg is third in the driver's championship points, which is amazing.
I highly doubt that we will get another race like this anytime soon, but I'll keep my hopes up. China in less than 2 weeks!
{ Comments on this entry are closed }