Getting back to posting! Time to talk about products I love, old and new.  I will plan an installment of Product Picks every week, but I'm sure I will run out of products at some point.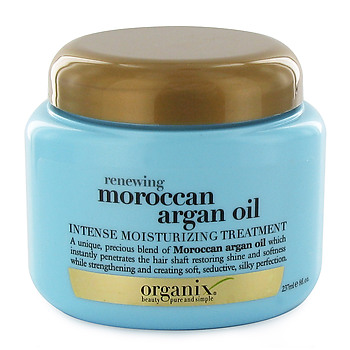 So, I had a BAD experience trying out some Moroccan Oil for my hair.  I had started seeing it all over the interwebs and of course, I wanted my hair to be super shiny and manageable, so I bought some.  Unfortunately, I didn't know that I would have a heinous skin reaction that would result in having the worst breakout of my life.
The bitch of it was that my skin looked horrible, and my hair looked FABULOUS.  So disappointing.
So, the next time I was busy getting my hair trimmed, I noticed that the stylist was putting some sort of oil cream in my hair. I asked about it, and she told me that the cream was much better at controlling the hair without skin implications.  I didn't have any skin reactions, but also didn't pursue the oil cream.  However, being unable to let go of my interest, I saw this moisturizing treatment during a trip to Harmon, and picked it up.
I wouldn't be writing about this if I didn't like this product, but I will admit that it is nothing really like what I am used to in terms of something that is construed as "conditioner." It looks like conditioner, and so I scooped up a bunch (I have thick hair, and probably also overdo it) and applied it.  So far, so good. The instructions say that the best thing to do is to wrap your head with a hot towel and leave the treatment on for a few minutes, but I am never doing that when I'm in the shower. Instead, I try to do the rest of my shower things in a slow manner so that the treatment can soak in.  So, I get to rinsing, and this is where it gets weird.  The first time, I feel my hair during the rinse and it does NOT feel conditioned.  This makes me nervous, because again, I have long, thick hair, and it's going to be a nightmare to deal with if not properly conditioned.
Well, I was tricked by this magic conditioner, because not only was I able to style my hair without a hitch, but I was not plagued with having overconditioned my hair so much that it looks limp and sad the next day. I am a HUGE fan of the Organix Moroccan Argan Oil Intense Moisturizing Treatment. I will totally use it every time I wash my hair, totally ignoring the instructions that suggest using it a few times a week.
I bought this for $6.99 at Harmon, but I see it listed here on Amazon for much higher. I recommend looking for it in store.
Have you tried any Moroccan/Argan oil products? What was your experience?
{ Comments on this entry are closed }