To view all of my content about brand experience, please click here.
I've been using Ancestry.com for a number of years now, but with a basic membership that only gives me access to records from the United States.
I was excited to receive an email about free access to Irish records for St. Patrick's Day, as I found out through my Ancestry DNA test that I am actually 39% Irish! Unfortunately, there was such a big miss with the rollout of this free access, and I was incredibly disappointed with it. The social promotion potential was completely blown.
From the email: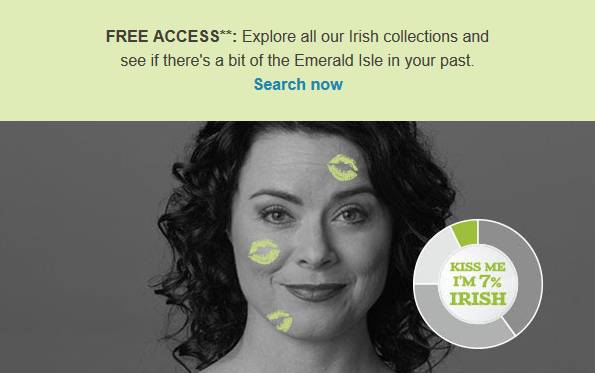 This is great, because the free access is helpful to those of us looking for Irish records, and also is a good way to offer a preview of the more expensive global membership. I click the "kiss me I'm 7% Irish" image because I am hoping I can get one of my own to share socially.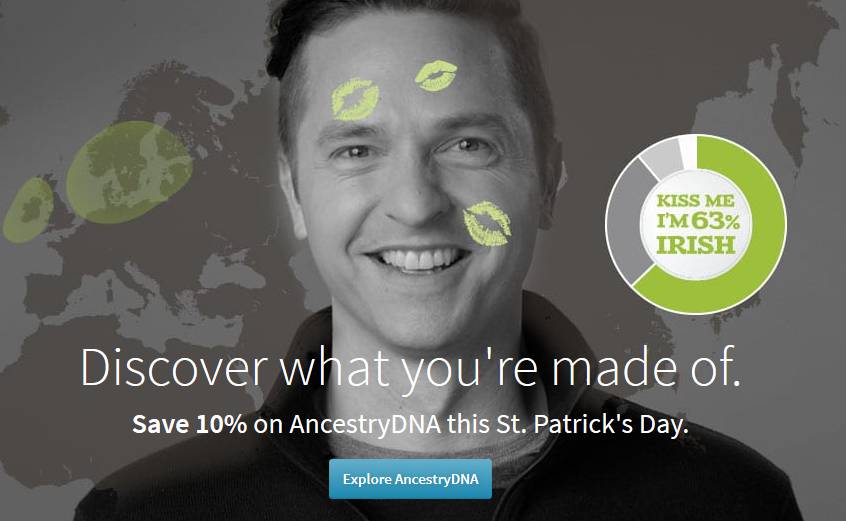 On the actual website, I'm shown another image, and encouraged to explore AncestryDNA. There is no social option here!
I would love nothing more than to upload a photo of myself and have an image created automatically that would show how Irish I am, and obviously, would be a great promotional tool for Ancestry.com.
Additionally, a one-time creation of a social image generator could be customized to feature any one of the major groups that your DNA result assigns you to. This could be used at any time, for anyone's personal reasons, and then promoted around appropriate dates, like this promotion for St. Patrick's Day.
From my own experience, I find that once people get into checking out their family histories, they become quickly obsessed. Even creating this little tool as a gateway for people to find their way to Ancestry.com would be a strong additional to their marketing and promotional plan.
{ Comments on this entry are closed }