It's no secret that I've been on a McQueen kick since my two trips to the McQueen exhibit at the Metropolitan Museum of Art. The current line of shoes are way beyond the point where Lee McQueen was designing, but Sarah Burton seems to have picked up the reins pretty well.  Beautiful things are still coming from the house of McQueen.
Let's get on with shoes!
It's not often that the wedge gets to be more than just the wedge.  This detailed wedge is beautiful and sort of subtle.  The Alexander McQueen 3d Black Flower Wedge is on sale for $547.25 from Zappos.
I wear flats with a number of outfits, and they don't get much better than this. I would probably prefer a silver skull rather than gold though.  Still, I would manage to handle the shoe the way it is.  Alexander McQueen Skull Flat is available for $545 from Zappos.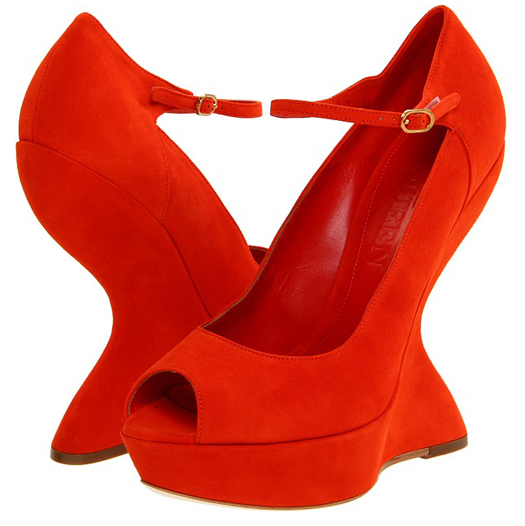 Talk about shoe as art. Look at that gorgeous wedge and the COLOR, look at the color! Alexander McQueen wedge in Paprika Suede is available for $930 on Zappos.
See! This skull on those flats would be perfect for me.  Oh well, I will have to settle for these crazy beautiful peep-toe heels.  Alexander McQueen Peep Toe Filigree Skull Pumps are available for a serious $1,275 from Zappos.
The whole collection of Alexander McQueen on Zappos is here.  What's your favorite?
{ Comments on this entry are closed }