44. Monster (Not available to stream on Netflix – available to buy and rent digitally on Amazon Instant Video)
Here is the trailer for Monster.
[youtube xrCUIY6er2U]
Spoiler alert!  Monster is a slightly dramatized story of the life of convicted (and later executed) serial killer Aileen Wuornos, played brilliantly by Charlize Theron, who rightfully won an Oscar for her performance in this film. She gained 30 pounds and wore some heinous prosthetics and fake teeth in order to embody AW, and it is a disturbing transformation. Christina Ricci co-stars in this movie as Selby, Aileen's girlfriend (a dramatization of Aileen's real-life girlfriend).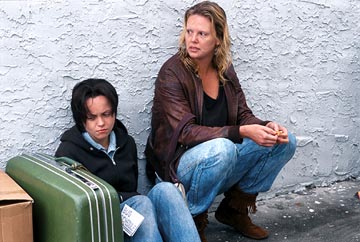 Not surprisingly, this movie is DARK. I love documentaries and after seeing this film the first time, I watched 2 documentaries on Netflix about Aileen Wuornos, both containing interviews with her.  It turns out that Charlize Theron was constantly watching these documentaries as well to best portray Wuornos. She does quite a good job, as I was just as freaked out by the movie as the documentaries.
The story is such that it shows a slow descent into near madness as Aileen feels that she has no choice but to murder potential clients (AW was a prostitute) to rob them and steal their cars.  She eventually is caught and has to watch Selby turn against her and work with the police and the prosecutors to convict her of the murders.
This movie is really well done, but doesn't give the warm fuzzies.  I recommend watching it but be prepared to be disturbed.
Monster is available on DVD from Amazon for $8.49.
{ Comments on this entry are closed }